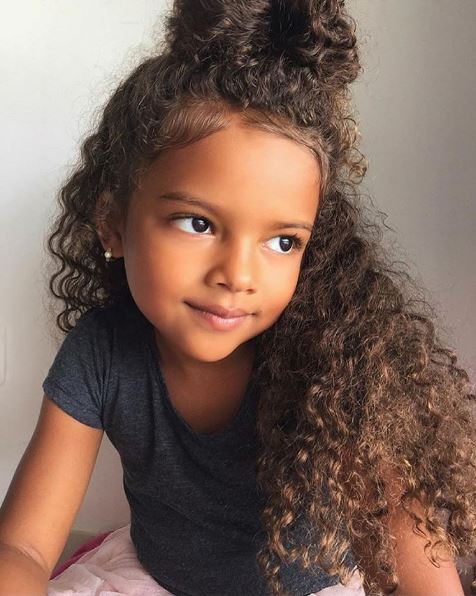 Styling your bi or multiracial child's hair is a lot different than styling any other kind of hair because it has a lot of different textures and curl patterns going on. However, it doesn't have to be a difficult task! It's actually quite easy once you get the hang of basic techniques and tips.
If you're having trouble, don't worry! There're a few things you can do to make the process easier on you. Here are 9 tips to help you style your mixed child's kinks and curls.
Use safe detangle methods
Curly hair is going to tangle and there is absolutely nothing you can do about it. Your best bet is to find out the quickest way to detangle your child's hair without being too rough and damaging it.
The best way to detangle would be a wide tooth comb* or finger detangling. It can be frustrating, but please avoid yanking, pulling, and ripping–and always move from tip to root, not root to tip.
Braid or twist their hair before bed
Like I said above, detangling can be a pain! If you want to deal with the least amount of tangles and frizz, loosely braid your child's hair before bed. It will keep it from being all over the place in the morning as well as protect it from damage.
If you can't braid, don't worry! Loose twists or a satin pillow will suffice. Just make sure you avoid tight ties and bands as those can be damaging and counterproductive.
You cannot tame "poofy" or frizzy hair 100%
Curly hair is going to have more volume and frizz than straight hair simply because it is kinkier and, well, curlier! Instead of trying to downplay your child's natural texture, go for taming the frizz and defining the curls instead.
It might still have tons of volume and curls everywhere, but there won't be any tangles or frizz to deal with so that is a huge win. Applying a product that was specially made for curl definition onto wet or damp, freshly detangled hair is probably the best way to go.
Hold off on flat ironing
We as adults don't even want to apply heat to our hair for fear of damage, so you should think twice before sticking a flat iron* to your child's hair!
Curly hair is already prone to damage and split ends as it is, so the introduction to heat busts the door wide open for possible damage like brittle dry hair and burnt ends.
If you must flat iron* your child's hair, go to the salon for the first time. This way, you'll be able to get your child's hair flat ironed without damage! If you don't want to keep going to the salon, go once and ask questions about what you can do at home while you're there.