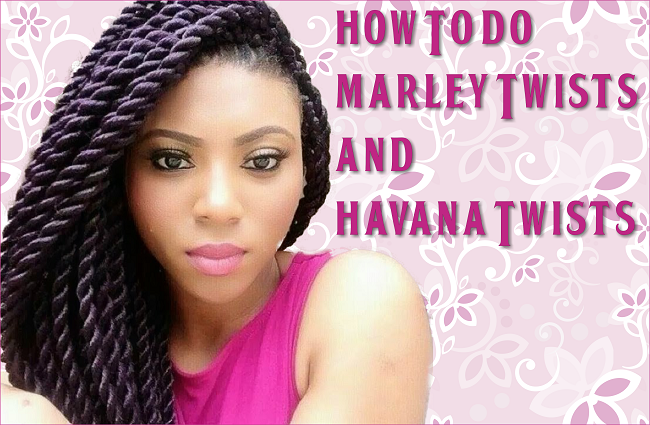 On Facebook we shared a picture of the gorgeous Eclarke, who had Havana or Marley twists and we had a question from one of our readers about how to actually get the Marley hair to 'attach' to your hair. Our answer is that its all in the technique. Some women actually braid the hair with there own but others twist the hair in and it remains in the hair for as long as you need it to.
Before we get into the how to, there is alot of confusion surrounding the differences between Havana Twists and Marley Twists. On #Eclarke6's instagram page she called her twists Harley's a cross between the two as a joke.
The main difference between Marley Twists and Havana Twists is the size of the section and the fact that Havana hair has a special type of hair used to create it. However you can use Marley Hair to do them, hence the confusion! If you use Marley Hair to do Havana Twists you will need two pieces of Marley Hair to make it bigger.
Marley Twists or Kinky* Twists are two strand twists with Marley extension hair. The names Kinky*, Marley, and Havana are sometimes used interchangeable because all three styles can be done with Marley hair.
It probably doesn't matter what you call it, but just know exactly how you want your style to look before you begin. We have a few videos below that give great demonstrations but before you check them out we have a 3 tips before you start your install:
►Soak the hair in water and apple cider vinegar* to remove the alkaline base from the hair to prevent any allergic reactions or scalp itchiness
►Wash the hair, because you want to keep your hair and scalp clean during your protective style, just use diluted shampoo or apple cider vinegar*.
►Before you do any protective style, you want to do a protein treatment and make sure your hair is super moisturized. Even though protective styles are a great thing you want to make sure your hair is in tip top shape before you lock it away.
Check out these installation videos below:
Havana Twists
Marley Twists