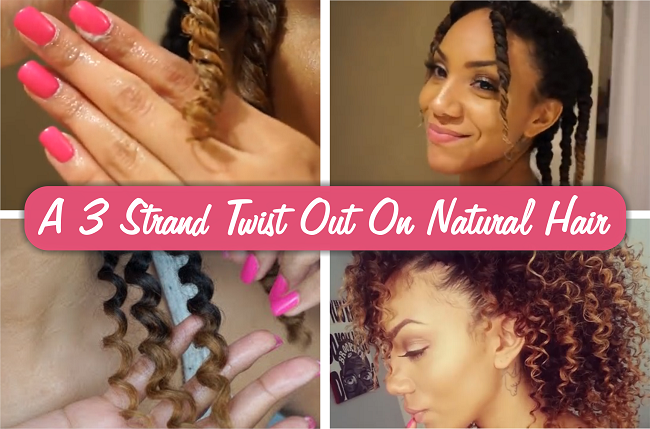 My home girl, Alyssa Forever from YouTube demonstrates how to do a 3 strand twist out which is much different from a two strand twist or a regular braid.
Honestly she can show you better than I can tell you but the results are more like a rope effect giving rise to more of a coil pattern rather than the waves that you would usually expect to get from a normal two strand twist out.
In the video she uses two products to create her amazing definition. ORS Olive Oil Cream and Devacurl Ultra Defining Gel.
Here are 3 reasons you should try a 3 strand twist out:

1. The twists are tighter – If you have a looser curl pattern or if you just want to wear twists for a while before releasing the hair for the actual twist out, doing it in this manner almost guarantees that you hair will not unravel before it is time for you to separate them.
2. The twist out is more defined – Because of how tight the twists are the twist out will have a ton of texture, so if that is what you are after then the 3 strand twist is the style for you.
3. It's cute! – Hey! I'm just saying, the style is really cute when done right, we would suggest trying it on both dry and wet hair to see which way gives you the most definition for your hair type.
In terms of making sure the style really turns out great we would suggest making sure your hair is very moisturized prior to doing your twists. Apply a water based leave in to your hair and try using a butter to seal instead of an oil.
Really great butters* keep your twists feeling plump and soft especially if you plan to keep them in for awhile before doing the twist out. A holding gel is also a good idea to ensure that the style lasts for a good few days.
Ok that is enough talking from me; let me allow Alyssa to demonstrate exactly how she does the three strand twist out. Isn't the result just gorgeous?