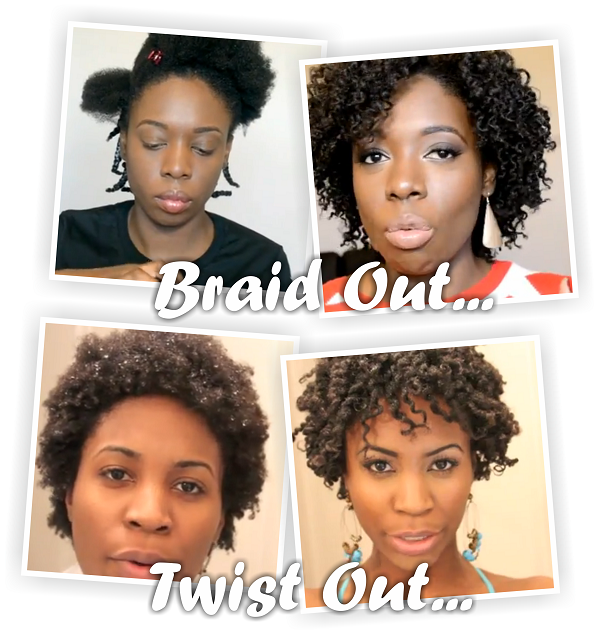 Curls make you feel cute, you know it's true! Hence why we tend to describe curls as flirty or fun and straight or wavy hair as seductive or sleek.
How many women have you watched on YouTube who preen and fluff their curls to within an inch of their life after doing a twist out, braid out or any other curly style? You know they are enjoying their natural hair when it's so bouncy with lots of movement.
If you have 4b or 4c hair that has tiny curls but they don't clump, you will know that movement is very difficult to come by when your hair is in it's natural state.
Curly hairdo's essentially force your hair to clump thereby giving each little section more 'weight' and suddenly you are in windswept hair heaven (ok I'm exaggerating a bit, it really depends of the length of your hair).
Twist Outs Vs Braid Outs
Now when it comes to curly sets for very shrink prone highly textured hair, braid outs and twists outs are certainly the most popular. It has been interesting researching these two to find out which style rules the roost.
I found numerous examples of braid outs and twist outs on 4b/c hair but I picked two really good examples of successful results for both styles to showcase for you here.
Below is a twist out tutorial from glamfun
And here is a braid out tutorial from Nyla K
Now I don't consider myself an expert at what constitutes a cute style because of course beauty is in the eye of the beholder.
Instead I try to think about the best way to style natural hair to support length retention. For that reason I feel that braid outs win hands down.
You may think me a bit biased since I usually style my own hair in braid outs way more often than twist outs and I probably am. But aside from styling my own hair, I have also been responsible for styling my sister's 4b high shrinkage hair for her since early this year and in our experience, braid outs are way cuter, give more stretch and because of the reduced shrinkage they also tend to be shinier.
Having said that, twist outs, when not separated too much, tend to last way longer and because they encourage a lot of shrinkage, they also tend to remain more defined than braid outs.
Also for some reason, twist outs tend to look better with age, more so than braid outs in my experience!
Certainly on YouTube searching for twist outs turns up more than double the results of braid outs and I suspect that it's probably because twist outs are much easier to do and take down.
In any event, the popularity of a style does not really determine how well it will work on your own hair simply because of minute differences in texture even when two heads of hair look similar in appearance and of course your technique and products used.
I will always faithfully remain a braid out girl and I cannot recommend them highly enough but you won't know for sure how well they work for you until you try and compare the results for yourself.