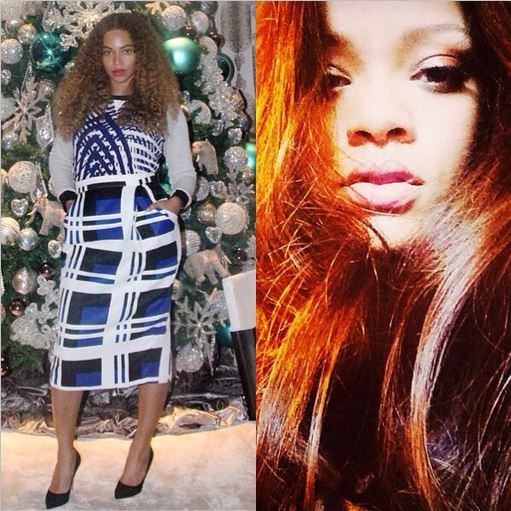 Rihanna took to instagram early this morning and was clearly showing off her new hair which really had everyone buzzing. This style is much different from her last style we saw at her Annual Diamond Ball Event, where she had dark black hair sleeked neatly into a long ponytail. This time she went for a multi dimensional brown with highlights, very thick and wavy and really pretty I might add.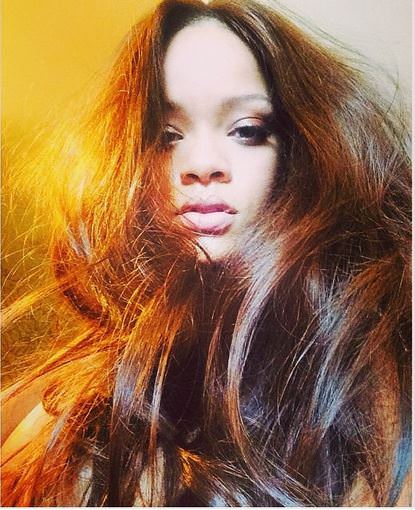 The Navy has been going crazy with her picture and well we cant blame them she looked amazing and the color matched her complexion and eyes perfectly.
On the other side of IG, Beyonce was serving it like she usally does she took to Instagram to share her entire ensemble in front of her now famous Christmas tree.
She chose a more natural hair style which is much different from her traditional wavy hair. The texture of hair was kinky* naturally curly which is pretty popular for many celebs these days. We just saw Nicki Minaj ricking it in her latest video "Only" in black was pretty cute as well.
I would like to see Rihanna try a kinky* curly style but something tells me she probably wont be doing that any time soon. She seems to stick with straight hair styles, whether long or short which is perfectly ok.
We have seen Beyonce rock the kinky hair before with her traditional middle part, she stuck with her usual blond color, which fits her face. I am sure if she ever did dark hair again, like jet black, she would probably break the internet.
Source
On another note, we have noticed that the traditional, 'going dark' in the Winter time doesn't seem to apply these days. We have seen more of our friends and celebrities decide that they will rock whatever color they see fit regardless of the season.
I am all for dumping some traditions with reguards to fashion and hair, rock whatever you like! What do you think of the new hair on both ladies?