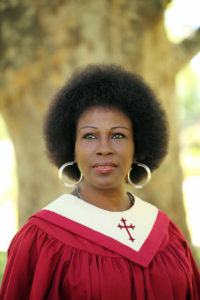 Testimony
I too can say that I have fallen victim to the wiles of temptation; the daily flat ironing sessions to maintain that perfectly straight look, trying to make my type 4 hair do what it was never meant to do or neglecting proper care practices because it took up a huge chunk of my time.
I must add that since my redemption, I've lapsed into transgression; often carrying around the baggage of former habits. But thank goodness I saw the light!
The Sermon
Brothers and sisters of this assembly, we all know the hair journey we have embarked on comes with its own challenges and that we must endure much persecution on this our pilgrimage to healthy tresses.
I feel like I'm preaching to the choir but that's alright because even the saved need a little redemption every now and then.
Every so often you have been cast down.Yes, temptations there be, for some the downs may be many and the ups may be few. We all have at one time or another been at a crossroad when we questioned our faith in the process and wondered if we had the resolve to hold out. Can I get a witness?
But yield not to temptation for yielding is sin! You know what I am talking about; that little thing that you find yourself doing even when your conscience gives you a beating for it, wrestling with the commandments of a healthy regimen and the allure of the sinful pleasures of inconsistency.
For all intents and purposes, today's sermon will be titled "7 Deadly Sins of Hair Care". I entreat our young converts who may not yet be aware of the biggest sins associated with hair care, to examine the doctrinal beliefs then take an introspective look at your hair-care practices.
Doctrinal Beliefs
We believe…
Item 1- Excessive Heat
…that excessive heat has no place in a healthy hair journey. In fact, including heat in your regimen is walking a fine line. Whipping out that flat iron*, curling iron* or blow drier at a whim is one of the worst things you could do to your hair.
Overuse of heat, especially direct heat saps the moisture from your hair rendering it brittle and prone to breakage.