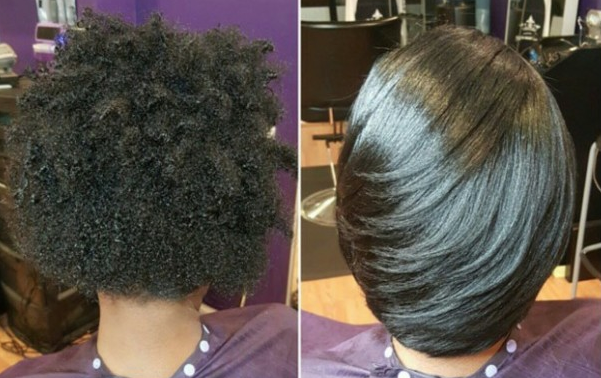 CAUTION! This may prove to be strong reading for those strongly opposed to heat styling to achieve straightened hair. Silicones and wax may be featured.
Now that we've got that little disclaimer out of the way, let's talk about how you can get straightened hair with a flat iron* that will fool others into thinking you got a relaxer. If you are able to pull it off we are talking major slayage so let:s get right to it:
The Prep Stage For Maximum Straightened Hair Slayage
Depending on what condition your hair is in, you may need to do a protein treatment before you do a moisture treatment. If your hair is quite porous a protein treatment with a re-constructor may be needed, otherwise a protein conditioner may suffice. Either way, you want to ensure your hair is strong because applying heat to already weak, brittle, protein deficient hair is just asking for trouble.
Whatever the condition of your hair you also need a good cleanse and deep conditioning* session. In order to get perfectly straightened hair you have to ensure that you properly cleanse your hair to rid it of any product build-up, dirt and sweat.
This gives you a clean slate to work with. You want to do this so that the deep conditioning* works well. Deep conditioning locks in moisture so that your hair does not suffer dryness going into the heat application step. Moisture must be infused into the hair, otherwise you won't have the great end product that you desire and you will end up with lots of frizz and split ends.