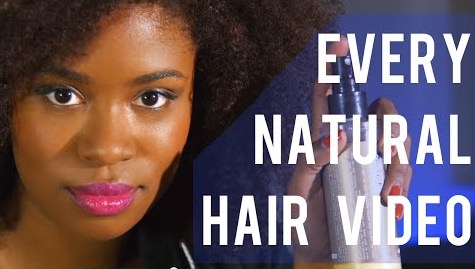 I love a good spoof, and this was a great one aimed at the natural hair guru on YouTube specifically. Content creation is a big deal nowadays, it makes alot of money and its fun for many individuals who choose that career. Who doesn't watch natural hair videos? We all do, they help us with our hair, we make friends in our heads and we get very attached to our favorite girls.
Here is what I do not like about natural hair YouTube video's:
Sponsorship – I get why a woman would do a sponsored video, whether it is for a hair product or some weird product that we know she didn't just buy out of Target somewhere.
But its hard to tell if we are getting the true feelings of the YouTuber because if you are paid, I am almost sure you aren't paid to say you hate the thing. We get that their might be an obligation to say mostly how much you like a product or accessory but it just takes away from the authenticity of the platform
Sloppiness – Hey not everyone is in the position to buy a fancy camera and superb editing software, but if you really want to make this thing a business you better get with the program even if you do not have the latest equipment. I want to watch the video really I do, but I cant see you in it, go outside, use natural light, but please don't make your video in darkness.
What I love about YouTube Video's:
The person – I get attached pretty easily to a great personality, so I can appreciate a great YouTuber who is down to earth and keeps it all the way real.
The hair – There are some pretty interesting hair styles, hair cuts, hair lengths out there and I love looking at hair, I make no apologies for it, its my thing.
The friendships – I have made some friends on YouTube, and that is invaluable if you ask me. Sometimes we forget that their are real people behind those cameras and they can make great friends.
Check out this funny video, its great to laugh at ourselves sometimes: