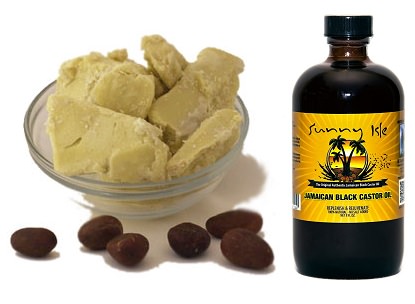 I cant decide if having fine hair is a blessing or a curse. I am more inclined to decide that it is a blessing because that is what I have and it would be entirely shameless and disturbingly negative to consider it a curse.
For a long time I never knew what having fine hair meant. Back home I would get my hair done and my hairdresser would always comment on how fine my strands were but because I wasn't invested in my hair, I didn't bother to figure out what in the world she was talking about.
Having learned to care for my own hair, now I know that having fine hair means that the strands are very small in diameter. This makes them prone to breakage because individual strands can be weak.
However, I have also learned that there is strength in numbers so encouraging my hair to clump is a must. Clumped hair has more tensile strength and is also less likely to break. I have also learned that heavy oils and butters are sometimes not for me.
Everyone knows that part of a healthy hair regimen for both relaxed and natural women is having a great sealing routine. As African American women our hair is naturally dry so the cat and mouse game of adding moisture and sealing it in never actually ends.
The purpose of oils and butters is to help with sealing so that the moisture stays in the hair longer which prevents it getting brittle and dry ultimately hampering length retention.
The Effects Of Heavy Oils* And Butters* On Fine Hair
The weight of a heavy oil or butter alone is enough break the strands, there really isn't anything too complicated about it. If you use a heavy butter such as pure un-whipped shea butter smothered over fine strands you will notice the hair becoming a bit stretched as you apply and for us fine haired ladies this stress will also lead to a few broken hairs.
You will also notice the product sitting on top of the hair because it cannot penetrate the strand which means greasy residue left in your hair. Not cool. All is not lost however, because there are ways to incorporate heavy butters* and oils in your routine if you want to enjoy the benefits without the negative aspects.
For example if you have fine hair, that tends to clump, don't fight the clump. Use a lighter oil for the length of the hair so that it is not weighed down and only apply the heavy oil to the very ends of the hair.
You really don't need a great deal of shea butter* or Jamaican Black Castor Oil to create an effective seal so be light handed in your application.
The Effect Of Heavy Oils And Butters on Low Porosity Hair
It would be entirely misleading to just highlight fine hair as the only category of hair that can have issues when it comes to heavy oils* and butters. While some may love these heavy oils from the very first moment, a common complaint from some ladies using shea butter* or castor oil* for the first time is But it just sits on top of my hair!
We have spoken about porosity before on this site and if you happen to be in a the low porosity category heavy oils and butters as a rule don't really benefit your hair. Low porosity strands can be good in the sense that when moisture does penetrate your hair, its a lot harder for it to leave giving you softer tresses for days. But the down side of it is that it is also very difficult for moisture to penetrate the strands as well.
If you have low porosity hair and you are not moisturizing effectively (using heat to open up the hair shaft and allow moisture in) and you use a heavy oil or butter on top you could literally create 'fortress strands'. This is where nothing is going in and you are left with dry and brittle hair that breaks despite your pampering.
Again there is always a solution, if you have low porosity you should always deep condition using some form of heat source and only then should you use oils to seal in whatever goodness you have put in.
It is advisable to use a light oil until your porosity becomes relatively normal, and if you must use a heavy oil or butter use it only after you are sure you have effectively moisturized the hair.