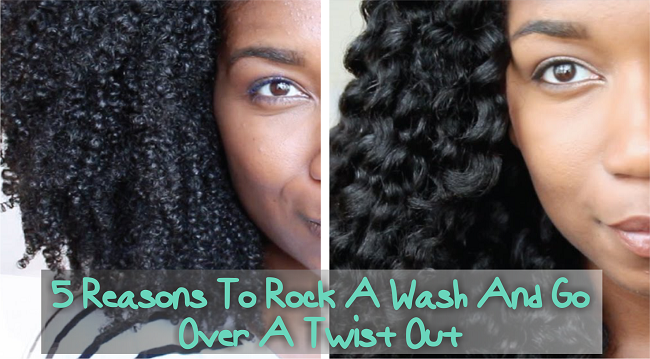 Natural hair is versatile. We can achieve styles that range from straight to curly, wavy, braided, twisted and puffed and with such uniqueness to make any woman feel special. Despite all the occasional trash we hear in the news about our natural tresses, we know how amazing it truly is. Our kinks and curls are beautiful and sexy all the while being chic and fashionable.
With that being said not every style is for everybody. Even if you disagree with that statement, you should at least know that not every style will be the choice for everyone to wear. We are still unique despite our hair's commonalities, which is so loved and coveted by others, but does it mean we all have to wear the same styles?
OK, I'm a Wash and Go queen, and although some find that a difficult style, I find it perfect for me. Even though there are many who swear it is not the style for them, I beg to differ.
Before we get into the reasons on why a natural may want to rock a Wash and Go over a Twist-Out, let's debunk some of these myths flying around about them, shall we?
You cannot wear Wash and Go year round – this stems from the folks living in four seasons and have actual cold weather during the winter months. For many Black women, we have been raised to believe that going outside (in the cold) with a wet head will get you a good dose of pneumonia or death! I am here to tell you that could not be further from the truth.
"You'll probably feel chilly if you skip the blow-dry on a cold day, but not much else will happen. Again, colds are caused by a virus. Unless you are so cold that you get hypothermia, which could make you susceptible to infection, wet hair or clothes won't increase your vulnerability. " Health.com
I live in Denver, CO, and I rock the Wash and Go all year round, and only wear a hat when it gets below 20 degrees. I also have never had a cold as a result of this and never plan on getting one because of a wet head.