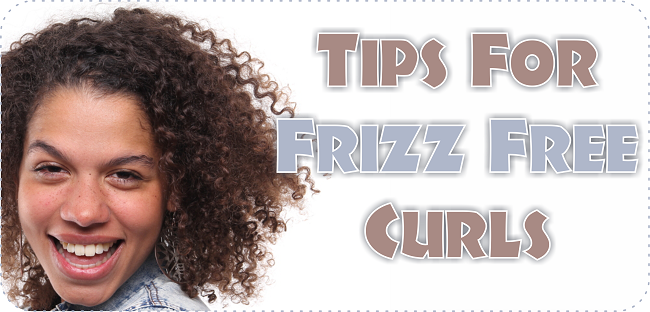 Frizzy hair is the devil! Have you ever said that? Well, most curlies don't care for frizzy hair as it looks a mess and makes you look out of sorts. You get the big hair or static hair or just bed head hair and all of those end up amounting to a bad day hair. A bad hair day can ruin your mood big time.
Frizz is caused when the cuticles in your hair shaft are raised instead of laying flat. This amounts to hair that appears to have a life of it's own as it stands on end refusing to be tamed. When the cuticles are flat, the hair will appear smoother. Who knew that small raised cuticles could cause such aggravation…?
Curlies in humid climates can get the frizzies even worse and as we embark on warmer months and more moisture in the air, this means that frizz is coming for you…are you ready? Here are some tips to help you combat the frizz and limit your bad hair days.
► Super seal after a DC – The main cause for frizzing is humidity in the air entering your hair shaft. If your hair is already full of moisture and super sealed, there is less room for humidity to get in so less frizz.
Washday is the perfect opportunity to direct your hair on the right course…anti-frizz by applying your seal techniques after your Deep Conditioning* (DC). You've cleansed your hair, detangled it and deep conditioned it. Now, it's time to seal in the moisture and all the hard work you've just completed.
By sealing in that moisture you are laying down that cuticle layer so the hair stays smooth and remains flat. Your number #1 culprit is dehydration so after you've used water and oils* to cleanse and revive your curls you need to seal that moisture in and keep your hair from being dehydrated.
► Do a cool rinse – Cold water is known to close the hair cuticles so some suggest that after applying your leave-in you should fill a bowl with cool water, even adding ice then you dunk your hair in it! Tilt forward and scrunch out the water before applying your styling products. Seems a bit extreme? Uh, yea, so here's a much tamer version.
Just stand in your shower before applying your leave-in and allow the cool water run down your hair as it will help seal in the moisture by closing the hair cuticle. Depending on your tolerance, turn the temperature to col; yes, you can do it!