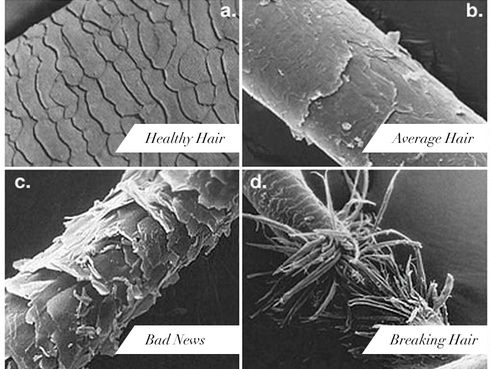 So you are in the bathroom looking high and low for your denman brush* that seems to always leave the one spot you have it in on a daily basis.
I bring up the denman brush* because most time we notice breakage during our detangling session. But if your breakage is severe you will notice little hairs on your shirt, on your pillow, in your bonnet, pretty much everywhere.
When your hair breaks it signifies that your strand is deteriorating either at the ends or along the length to the point that it cannot keep itself together.
If you have split ends, your hair will typically be naturally thinner and weaker because the strand is literally split in half.
If your hair is dry or brittle it will not have the elasticity it needs to hold on to itself which leads to hair fall. Once you have noticed that your hair is breaking based on any of these scenarios it is time to move into swift action to correct the issue.
1. Trim
Getting a trim ensures that you remove all split ends, all weak and brittle ends and all dry ends. Your hair will tangle less and it will be easier for you to care for your hair with a good trim.
Trimming might not eliminate all the breakage you experience though because when we trim we typically focus on the bottom half of the hair and breakage can occur further up the strand as well.
Trimming is however a great start.
2. Protein
Protein use has got to be one of my favorite things to write about because I benefit so much from using it often. Protein is the building block of the hair strand, it is what hair is made of.
Protein strengthens the hair making it less weak and prone to breakage. Protein can single handedly correct mid shaft breakage issues because it binds itself to the entire strand.
When you do a protein treatment you will notice a natural luster about your hair that you probably never had before during the time that your hair appeared damaged.
If you have relaxed or super fine hair like me, protein is your best friend! How often you use protein when your hair is in pretty good shape, is different for everyone. However if you are experiencing breakage or have generally weak hair you can benefit from using small amounts of it weekly for maintenance.