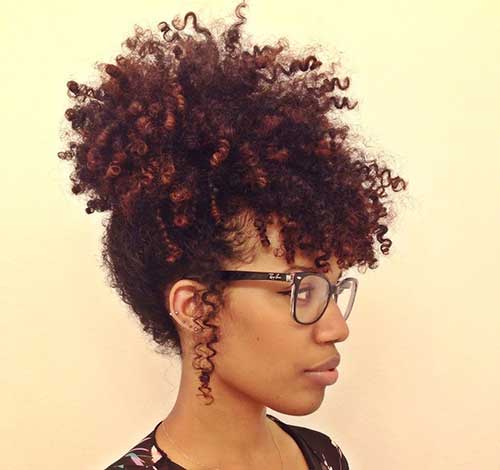 Being natural comes with a lot of trials and error. Some things you will get right on your first try while others will take you months to master—either way, it's all one big learning experience.
I personally wish I had a lot less error or at least someone to give me solid advice before I embarked on what is now a 5-year long journey–but I got something better: personal growth and the ability to give others advice I didn't get!
I'm still learning new stuff all the time, but I do know that my experiences up to this point can help other beautiful ladies on their own natural hair journeys. Here are 5 things I wish someone told me before I went natural.
Every now and then, there will be a new "Holy Grail" product….And It won't work for you
The natural hair community is always stumbling upon a holy grail product that is said to do wonderful things; increase hair growth, help you grow your edges back, or whatever else we desperately need help doing–it does it.
When I first went natural, everyone was ranting and raving about how great coconut oil* was. Women were scooping it up like crazy and integrating it into every part of their hair regimen from styling to wash day.
I thought, "Wow! if it worked for all of them, it must work for me."
Man, look. I've never been so wrong in my life. Coconut* oil made my hair a stringy, tangled mess and to say I was disappointed would be an understatement. I simply didn't work for me, and while that was a bummer, it prompted me to find another oil that would work for my hair.
I know a ton of other ladies who had this same experience. The consistency of coconut oil* was too light, they were allergic to JBCO*, the smell of tea tree oil* was too strong. It happens. The point is, no matter how great one product is for everyone else–it is not one size fits all, so it may not be the best for you.
You Might Get The Urge To Relax Again, and That's OK
I became natural solely for hair health. I didn't know how to properly care for my hair while relaxed, and relaxers as a whole were just harmful to both my body and hair, so I decided it was time to let them go.
Going natural was the best thing I could've done for my hair, but let me be real for a second: natural hair can be high maintenance. Wash days alone were a struggle I never had to deal with when I was relaxed, detangling…what's that? All of it was a bit difficult.
Because of this, I seriously considered relaxing my hair again after a year of being natural. I didn't actually miss having relaxed hair (because I think my natural hair is beautiful), I missed it being low maintenance and slightly more manageable.
After realizing that, I no longer felt bad about wanting a relaxer. Actually, the revelation really curbed my desire to do so and inspired me to look for better ways to deal with my natural hair.