Introduce yourself . . .
I am a Ph.D. candidate in Instructional Technology at the University of Alabama. I have over 12 years of IT consulting experience in corporate but currently merging that experience within K-12 and higher education environments.
Are you relaxed, natural, texturized or texlaxed?
I have been natural since May 2007. I didn't get my first perm until 1999.
What's your hair story, how did you get to where you are?
When I first entered corporate America, I thought my press & curl wasn't good enough; more so from listening to females with perms.
Needless to say, I got a perm in 1999. However, I could only get touch ups every 3-4 months because even with the stylist "tex-laxing" the new growth, my hair would get BONE STRAIGHT in a matter of minutes.
I have extremely thick hair, but the perm dwindled that thickness down to limp hair. Maintaining the perm was much harder than just straightening my hair with a straightening comb, so I decided to go back to what I knew. I didn't do the BIG CHOP, instead I gradually cut the perm off over the course of 16 months.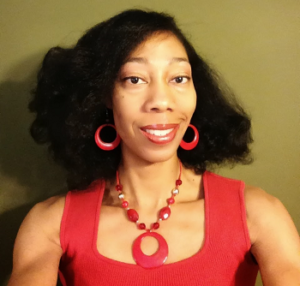 At that point I had shoulder length hair, so I started playing around and discovered the wonders of wash-n-goes from watching YouTube videos.
I am very physically active at the gym, so straightening my hair on a frequent basis would be time consuming. Wash-n-goes and twist outs have been my more frequents styles to date.
What is your typical weekly regimen?
My regimen is pretty simple these days. I have been using Alba Botanica Coconut* Milk Shampoo & Conditioner (the new formula).
Next, I apply either Castor oil* or liquid Lanolin to my hair while still wet. Finally, I do 1 of the following:
1) Apply gel on top for a wash-n-go
2) Do a simple twist out with about 8 twists, or
3) Blow dry and add a few satin covered rollers. Since it is still hot in Alabama…..I have been doing wash-n-goes and twist outs these past 5 months.
Are you happy with your progress so far?
Yes, I am very happy with my progress. As long as I have a good detangling conditioner* all else can be worked out.
What's your signature style?
I would definitely say that my wash-n-goes are my signature style because I get to experience the transformation of my curls through the duration of my style, from massive curls to massive curls and volume.
How do you ensure that your ends are protected from the elements and your hands?
I make sure I coat the ends of my hair when I'm styling with whichever oil I'm using for that style. If my hair is in a straight state, I usually wrap my ends around in a bun.
Do you have a goal length or are you more concerned about the health of your hair?
My hair grows really fast, so I concentrate on keeping my scalp and hair healthy.
My hair is bra strap length now, so I am "considering" whether to continue to let it grow and donate to Locks of Love.
Is there anything that you hair hates?
My hair does not really like coconut oil* or products with alcohol.
However, as long as I use an oil that my hair does like, I can usually have a successful outcome with the alcohol based products, but I make sure I don't abuse those sort of products.
Do you have any favorite hair products?
I'm really liking the Alba Botanica Coconut Milk Shampoo & Conditioner, Aussie Moist 3 Minute Conditioner, Eco Styler Gel with Oliver Oil, Castor Oil, and Liquid Lanolin. I have also created my own shea butter* mixture with vegetable glycerin vitamin E* oil, extra virgin olive oil*, and lanolin.
Where can we find you online?
My YouTube channel: http://www.youtube.com/user/23sugakane/videos
My blog at: http://thediydoctor.blogspot.com
Pinterest: http://pinterest.com/kngarrett23/the-diy-doctor/