Everyone knows coconut oil has been a staple in a curly girl's arsenal for the longest time. We also know that grease has been a part of the tradition but it has gotten a bad rap especially after it was thought to be linked to carcinogenic agents.
We know companies are always sneaking in highfalutin statements in order to sell us rubbish. We've seen the names that have the natural product like coconut, jojoba* or olive oil* in bold only to find upon closer inspection that there is no sign of the supposed main ingredient in the ingredients list.
Coconut Sells Anything, Right?
Well, this one product does have a couple great ingredients (coconut* and jojoba oil*) along with the vilified petrolatum. Unlike some products that have the item in the name but not in the ingredients list, this one had coconut oil as it's the second ingredient; but it's a cleverly worded line and a post of that line that caught my attention.
I was scrolling down my newsfeed when I saw this: Coconut oil* power-packed miracle working potion sounds like it's from the holy grail of hair care. 🙂 Just take a look: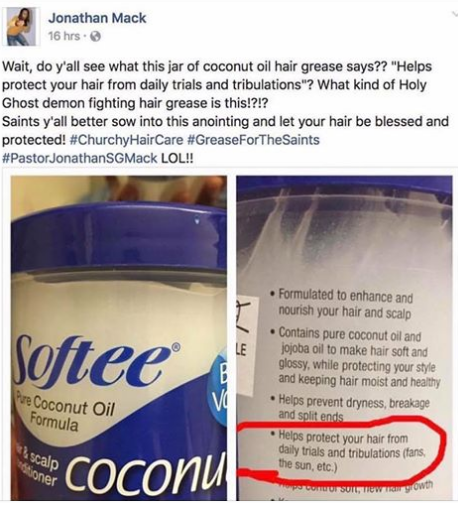 I was thoroughly entertained by the post too (Johnathan sure amped up the entertainment factor on this). Whoever did their marketing ran with an idea that was sheer genius. In a little way, it reminded me of our post on the "7 Deadly Sins of Haircare". Anything that will help you ward off those trials and tribulations has got to be good right?
Well the petrolatum will send up a red flag for many naturals, but for those of us who are seasoned and have gone rogue when it comes to following every single haircare rule; for those who understand how to make grease work to our benefit and are willing to take the risk, it may be an option since grease can be an excellent sealant (maybe too good a sealant). Besides, we've learned that petrolatum is not comedogenic so it washes away a little easier than previously thought; which is great news for those interested in using it because if it makes wash day harder, (in my Sweet Brown voice) "ain't nobody got time for that!"
On several hair forums, actual users said they had no problems getting it out on wash day as a co-wash did the job just fine. Others stated that it was really good when compared to other types of grease or coconut oil* hair dress.
So Are We Cool With this Coconut Oil Grease Now?
Disclaimer: This is not aimed at sending mixed signals as it pertains to the use of petroleum based products. We have always maintained that you should carefully conduct your own research, be fully aware of the pros and cons and then do what works best for you; so if grease is your thing, knock yourself out.
We do however encourage new naturals to abstain from grease or petroleum based products until you've had a chance to learn about your hair and what works for it before committing to using grease.
Let us know if you've ever used this product and if so, did the 'trials and tribulations' line prompt your decision to buy? How did you find Johnathan's commentary on it?