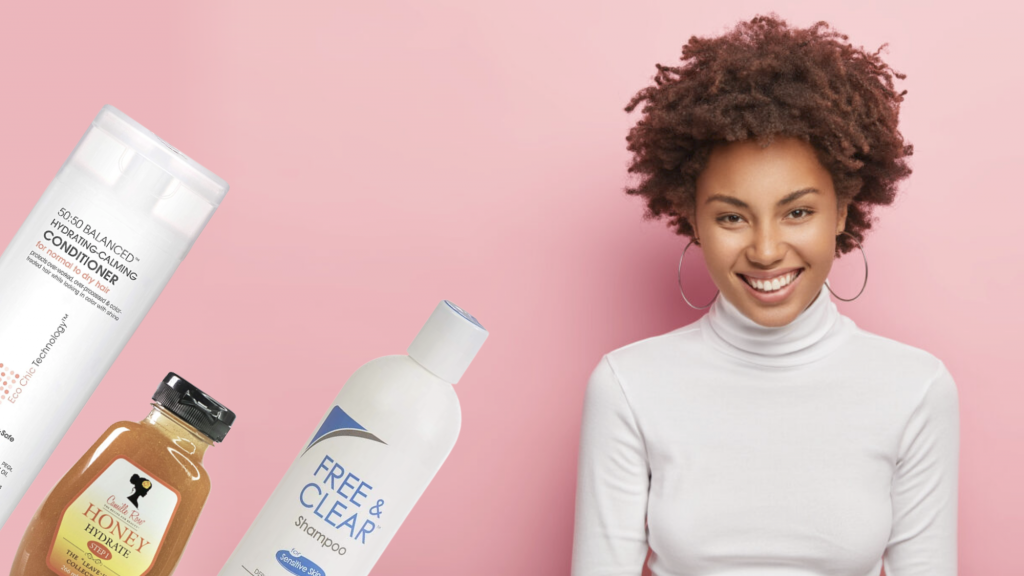 Have you found your hair to be a bit brittle and dried out even though you have been working on having a good moisture-protein balance? Chances are you may be protein sensitive and you are using too many protein-based products that are taking a toll on your hair. It may be time to start looking into protein free hair products.
Even though all hair is made up of protein there are still some who respond better to protein-based hair products than others.
So how do you stay on top of your hair goals if you are protein sensitive? You try to do a detox that gets rid of the protein you have been layering on your strands and then look for protein-free alternatives.
There are many products on the market, you just need to know what to look for when avoiding protein. Not all products have the word protein explicitly listed so it is important that you are able to identify the different phrases which indicate the presence of protein in your products, as this will help you steer clear of them.
If you see terms such as hydrolyzed, amino acids and collagen these are often synonymous with protein. Look out for wheat protein, keratin, silk amino acids, oat flour and rice complex as well.
Remember that the higher up in the list that an ingredient is listed, the more the amount will be in the product so try to look for products that have none of these terms listed or at the very least ensure that they are towards the very bottom of the list. The farther down on the list you find them, the less of the ingredient is in the composition of the product.
As far as ingredients go, several protein free hair products substitute coconut oil* since it is a very good alternative. Some people who are super protein sensitive might find that coconut products have a similar effect on them as protein does so take note of this as something else to avoid.
Since hair is made of protein and the strands will eventually need it for maintenance of the strand you cannot banish it forever and you most likely will not be able to escape it entirely since it is usually in most hair products. But knowing what to look for helps you manage your use of it so it does not add to problems in your hair journey particularly if you have low porosity hair. Basically, if your hair does not quickly absorb and retain moisture then you are on the low-porosity spectrum.
The basics of a hair routine entail a good cleanser, conditioner, deep conditioner*, leave-in conditioner* and styler. If you are layering on protein in each step it means you are creating a barrier along the shaft that prevents moisture from getting through and that is why the hair becomes brittle.
Many hair product lines have several protein-free options to choose from if you wish to stick to one brand but if you do not mind trying different products across multiple brands then this list of 10 protein-free or low protein products could be beneficial to you.
Cleansers
This is specially formulated for people with very sensitive skin so if you find you have burning and itching on wash days owing to product use, this should cut down or eliminate the irritation while cleansing your scalp and hair.
Specially design to balance the pH of your hair while deep cleaning and ridding hair and scalp of build-up. This is an excellent cleanser that is free of drying ingredients.
Rinse out Conditioners
Formulated from a fusion of botanical ingredients, this product is mild enough for everyday use and can even double as a deep conditioner*. It is meant to promote moisture and improve the overall health of your hair while limiting product build-up that weighs down the strands.
This conditioner is formulated to moisturize hair that is dry and brittle, and replenish luster and shine with a blend of organic ingredients. It boasts organic sea kelp, chamomile flower, rosemary, grapefruit, and ginkgo biloba. This does have textured soy protein but based on its position in the list it is a small amount.
Deep Conditioner
Fortified with aloe vera, raw honey olive oil, and jojoba oil among other beneficial ingredients, this product is meant to soothe and heal the scalp while it repairs bonds in the hair shaft.
It helps with moisture retention and has loads of beneficial ingredients to promote hair health inclusive of aloe, rosemary, sage, andiroba, basil as well as sunflower oil*.
Leave-in Conditioners
At just over $10 this honey based leave in is from a black-owned brand that provides maximum hair hydration. It rehydrates your strands and acts as a humectant pulling in moisture from the air while also acting like a sunscreen for your hair.
This is also a crowd favorite as it does not weigh your hair down. It strengthens your hair with its coconut-based formula and is great for low porosity hair.
Stylers
This is a water-based styler with blueberry extract, coconut oil*, safflower seed oil, grape seed oil, and mango butter just to name a few of the ingredients. It aids in setting your curly styles while boosting sheen and manageability.
This styler is a blend of honey, essential oils*, and pomegranate extract to promote a healthy, nourished scalp that enhances hair growth. The smell is great and the results round out between a four and five-star rating among naturalistas.
Final Thoughts
The products listed have awesome reviews based on their results but as always, one size does not fit all.
This list is not exhaustive and there are hundreds of other protein free hair products if these suggestions do not work for you.
Just remember to check the ingredients list so you are able to make an informed decision that is best for you.