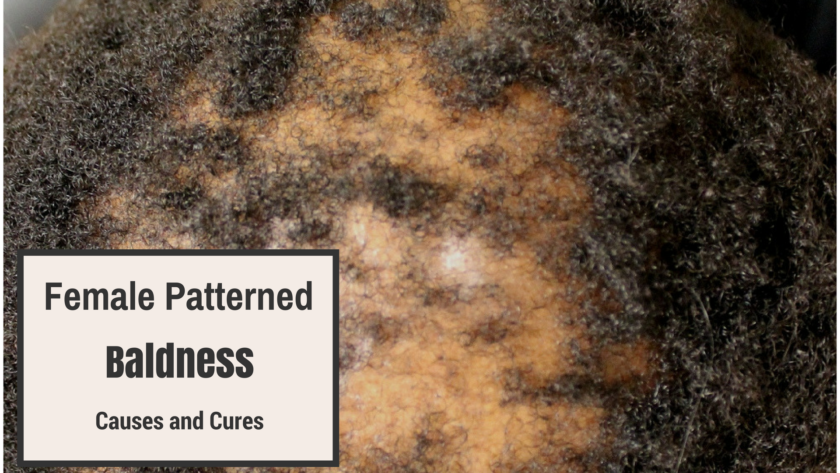 Contents
Female patterned baldness is unfortunately very common for women of all ages and all races and as the daughter of a woman who has suffered with it for much of my adult life, I know the effects all too well.
My mom lost her hair before I was born after a traumatic experience and since then she has tried every treatment and every method to get her hair back.
Though my mother is bald in some area female patterned baldness can happen naturally to anyone and often occurs when the hair follicle shrinks over time resulting in thinner, finer hair and eventually the follicle stops releasing new hair.
Typically women lose hair on the top and the crown area of the scalp and gets worse and worse towards the middle of the head. In some cases women might have complete baldness like men do, in other cases, they will have just a little bit of hair on the crown.
Here are a few alarming statistics about female hair loss:
– 40% of women have visible hair loss by the time they're age 40.
– On average, women dealing with thinning hair are between the ages of 25 and 35.
– 90% of hair loss is genetic and needs to be treated with laser therapy or topical medication.
– 24% of women equated losing their hair with losing a limb.
– Some women lose up to 70% of their hair from a stress response called Telogen Effluvium
The cause of female patterned baldness
I have been researching female patterned baldness for awhile and over the years I have come across a few reasons it occurs.
According to documents from Medlineplus.gov:
Each strand of hair sits in a tiny hole (cavity) in the skin called a follicle. In general, baldness occurs when the hair follicle shrinks over time, resulting in shorter and finer hair. Eventually, the follicle does not grow new hair. The follicles remain alive, which suggests that it is still possible to grow new hair.
With that said there are three main causes of female patterned baldness:
1. Aging
As women get older and get to the stage of menopause our hair gets much thinner and if our level of manipulation remains the same, we may lose hair faster than expected. According to statistics 40% of women experience thinning hair due to menopause.
2. Hormone changes
Again this is related to age as our hormones change so does the quality of the hair. You might notice thinning or finer hair or even a looser curl pattern. These things are all normal for some women.
3. Family history
Truth be told even though my mother did experience something traumatic in her life, our family history did not help. If your family has a history of baldness then more than likely you will be affected by the same thing because of the genetic links.