Movies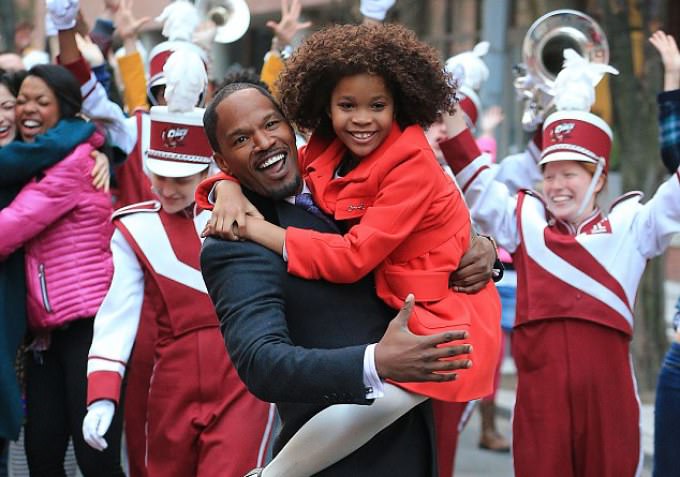 Speaking of acceptance, have you seen how natural hair is going to the big screen more and more? I mean, I loved the big, natural hair Terry (played by Taraji P. Henson) had for her role in No Good Deed! Her daughter even had her hair in an adorable puff too, which I thought was too cute.
Honestly, I think Taraji looks beautiful with natural hair, even though the movie is a suspenseful thriller and she could have had a wig* on. And aren't you excited to see Annie?!
The perfect musical to come out at the end of the year with Annie, (played by Quvenzhané Wallis) about a wealthy businessman coming to the aid of a young girl in an orphanage. I love the line from Annie after seeing herself on the billboard, "Whoa, my hair's gigantic!" That is just too cute.
As more and more actresses and actors accept and where their hair for their roles in the movies, there will be more openings for 'natural hair only' in roles in the future.
Print – Advertisements and Magazines
Of course we see ads of natural hair products like Shea Moisture* and Mixed Chicks* with a naturalistas excited to use the products. We have also seen women going from natural to straight with a hot tool or product, conveying kinky*, curly, and coily hair is just 'out of control.'
Well, naturalistas have definitely gone out of control in a positive way with advertising H & M clothes and shoes on billboards, many ways to save at KOHL'S this Christmas on their website, and just enjoying the magic of Macy's anywhere you seen an ads.
You see frizzy, kinky*, and locked hair all advertising for mainstream department stores. I mean, we love seeing naturalistas on the front of Essence, but when you see a natural hair child on the front of Parents magazine being held by a natural hair mother or a naturalista advertising make-up for Lancome, that really sparks something in the natural hair community.
As we continue to love and endorse our natural hair, we will see more and more natural hair actors and advertisements with 'our' hair. It's about pleasing the consumer and you want the consumer to be interested in your product. Natural hair has become the highlight of the year 2014 and I'm certain that we will have more representation in the future.