2.Madame Alexander Doll Company
This company was founded by Beatrice Alexander a long time ago. She started in New York city around her kitchen table in 1923. The two dolls that specifically have natural hair are two of my favorites, I just know that if I were 5 again they would be the ones I had to have.
The dolls are called Isaac Mizrahi Wild about Leapard Girl and Stars and Stripes doll. Her dolls are absolutely beautiful and 100% collectible, check out her website for more details
This is an Etsy shop filled with hand made dolls and owned by Aileen Robinson. Every doll is crocheted to perfection, made with care and lots of love.
Her dolls would make perfect gifts for any little girl, and get this, you can actually construct your own doll with her crochet patterns that she provides. How awesome would it be to be able to construct a doll that looks just like your little princess?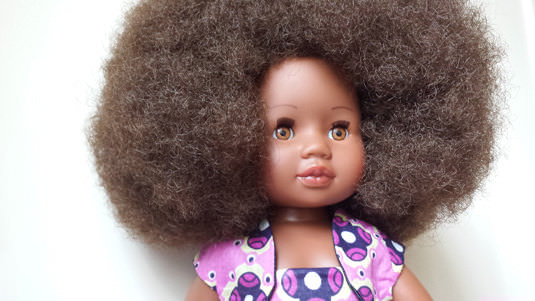 This is another Etsy shop owned by Celine. The dolls here are also handmade with details that are out of this world. The dolls have afro textured hair and African print clothing making them pretty unique and dare I say expensive.
She also has the cutest clothing and accessories that can be purchased for each doll that are around $20.00 depending on what you choose. Most of the clothing are African print and too adorable for words.
Though these stores are online, Mattell and other toy stores are starting to create dolls that represent the brown girl demographic, you just have to be picky on what you choose for your own child.
Personally I like the idea of a very authentic doll created just for my little girl in her likeness and I am often afraid of too much of a commercialized version.
What is definite is that the market is wide open for more doll companies who want to focus on creating dolls that look like little brown girls. I am yet to see one with shorter hair, very dark skin or real pigtails that jut out like ours did when we went to church. If you know of a company that sells little black dolls feel free to leave a comment below with the link.
For now we can enjoy the four that I have listed!