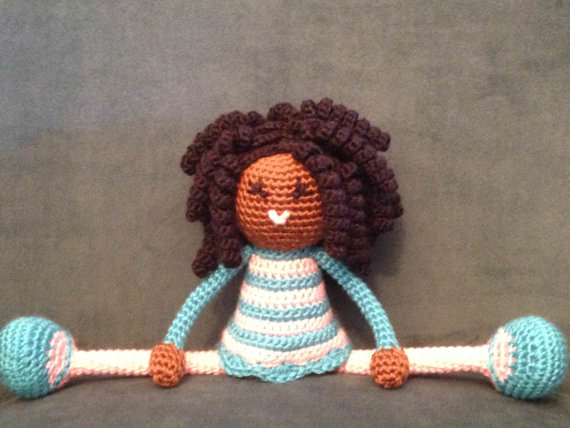 Did you guys have a Cabbage Patch doll? I had one, she was real too, she had a birth certificate with her name on it, her own outfits, shoes, underwear, everything. Her name was Andrella Joe she was white with the classic hair that most Cabbage Patch dolls had and she was my most prized possession.
To this day Andrella has a place in my room at my parents house, I must admit she smells kind of funny now after so many years, but that's ok, I still love her.
These days little brown girls have a few more choices in dolls that I did not have. There were black dolls around because I do remember having at least one black Barbie but they just were not as appealing as what I would call 'regular' Barbie.
In this day and age the need for positive images for our little girls are imperative. Positive images does not have a specific color but when a little girl sees a toy that looks just like them it helps them to feel encouraged and appreciate the little things about them that make them special.
I had no idea when I was growing up how glorious my hair was, I heard people say it, but I never quite understood it because I was not familiar with it from my own perspective as a 5yr old or a 7 yr old.
When children are given tools such as dolls that are a reflection of them it helps them to further identify who they are and understand the importance of being confident about the things they have, like their hair or anything else that might make them feel a bit insecure.
We saw an article the other day published by BGLH about black doll toy companies and we thought it was so important that we had to take a stab at the topic highlight those companies here as well.
The author of the post highlighted 4 places to find black dolls with natural hair, so without further ado here they are.
This company was started by blogger Karen Byrd. She does a great job at making her dolls hair look and feel like some of the styles naturals would wear present day.
I do not think there is any style that she has not replicated; updos, afros, kinky* twists, faux locs are only a few offered in her online store. If you have a little girl who perhaps is not comfortable with her big hair maybe try using a doll with an afro to help her get comfortable with her own.