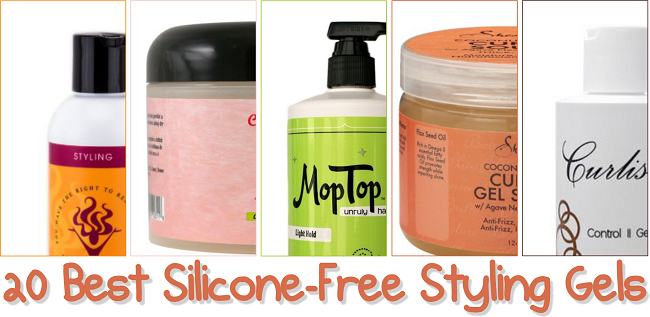 I'm one of the many who have kind of stepped away from silicones since going natural. While they are great for many reasons (like fighting frizz, smoothing out your hair and shine) they tend to just sit on the hair and create massive build-up.
I also prefer them in serums as opposed to other products I use like styling gel. I need my styling gel to work but not to build-up. I wet my hair almost daily so when it's time to wash out the gel I don't want silicone residue. So for my styling gel I go silicone-free and find great success not using it.
Styling gels are necessary for many naturals it can fight the frizz, ward of humidity and keep the curls defined. If you don't want silicones in your gel for whatever reason here are the 20 most popular and for good reason!

If you want a gel to do what it's supposed to do and more than you have to try AS I AM*'s smoothing gel. You get superior hold without crunch or white residue, it washes out easily and quickly, so no worries about build-up. Great for taming your hairline without harsh ingredients.
---
Created with specially formulated blend of natural extracts and proteins, this gel won't leave your hair stiff or heavy. Forget about frizz or build-up because washing this gel out is a breeze. Your coils and kinks will gain shine and body and looking gorgeous all day long.
---
This natural gel will hold your shine and style without the crunchiness curlies hate. Rich oils and vitamins* will nourish and feed your scalp while it holds your hair with maximum moisture.
---
If curl definition is your purpose then this silicon-free, aloe rich gel needs to be in your arsenal. It's 98% natural and made to create volume and bounce to your tresses. Great for elongating your curls and coils and packed with aloe, glycerin, vitamin B5 and sweet almond oil*. Perfect for transitioners wanting to smooth the new growth and will do wonders to your twists and twist-outs.
---
A perfect gel for humid climates, this hair styling gel is silicone and glycerin free. You get extra hold with no frizz, there are actually frizz smoothing plant proteins and starches and a light tea scent. Great for fine, wavy and curly textures.
---
Sometimes you need that maximum hold and this gel does just that. Made for kinky* and tight curls, this alcohol and silicone free formula contains Panthenol and soy protein. The Control II Gel will refine your strands and keep them from frizz in even the highest of high humid temperatures.
---
Moisture is a necessity with curly, kinky* hair and when your hair is dry it is prone to frizz and lose all kinds of control. Get frizz control with this water based product that leaves no buildup, lasts for days and simply reactivates with water. Most effective in humid weather.
---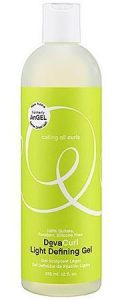 Lightweight with a moisturizing hold, this defining gel will dissolve instantly when applied to wet tresses. You are left with a moisture-protective cast that's light to the touch and will enhance your sexy curls, kinks and coils.
---
You've got unruly strands? Then you need this condition and sculpting gel. Great for wash and gos and even a curly weaves. Versatile in that you need only a little for light hold or add a lot for maximum hold.
---
A perfect styling potion to create curl definition and maintain your curls and style all day. It's got a thinner consistency than a typical gel and that only makes it easier to evenly distribute throughout your hair. No drying out ingredients like alcohol or silicones so you have moisture for days.
---
Here you get a lightweight gel that will transform your dry, dull tresses into frizzless coils. No crunch and no residue and this non-oily gel is great for every day usage.
---
A favorite among curlies every where! This curling custard goes a long way and will elongate your coils like nothing else. You get curl definition, amazing moisture and a brilliant shine all from one jar!
It reduces bulk and defines your coils with an advanced botanical formula that's all natural. It utilizes the humectant properties of the Agave Nectar to remove frizz and give long-lasting hold.
---
Anti-frizz and anti-boring, this Curling Soufflé, is sulfate-free and color-safe. It's got flax seed oil and agave nectar which both define and promote soft plumped up curls. With the coconut oil* you get nourished, hydrated and sealed tresses that look and feel better than ever.
---
Alcohol, sodium and silicone free, this Loc and twist gel won't flake, build-up or dry out your locs or twists. This is a pre-mixed cream formula that gives your hair hold and moisture and great for all hair types.
---
Replenish your strands with this amazing spiral gel. Get curl definition due to the infused keratin that's exceptional at not flaking. Weightless with a soft hold but gives a brilliant shine.
---
A no nonsense gel that is made to work hard at taming your hair. It's got one job and one job only, keeping your tresses in place and not allowing humidity (or anything for that matter) to mess with your hair.
---
A reasonably priced volumizing gel that's gives great body without messing with your color. It's infused with white nectarine and pink coral flower which gives you creative control of your strands. Humidity? What humidity? Nothing interferes with your hair looking gorgeous with this gel.
---
Not a gel, yet not quite a serum this product is a botanically based curl styler that gives crazy shine while fighting off frizz. Your hair stays in place in humid climates and you get curls others will be jealous of.
---
This gel is made for the setting curls, two-strand twists and braids. Get roller set perfection with this moisturizing cream gel that gives you a natural shine with a gorgeous set of coils.
---
Get those edges to lay down with this firm-hold edge control gel that's made for the thicker coiler curl patterns. Honey and Shea Butter* add nourishment while giving a magnificent shine and more intense hold.
---
Well that's it, notice we did not mention Eco styler gel, even though Eco styler* is a very popular brand of gels and silicone free we were very sensitive to the fact that some naturals are always looking for alternatives.
Tell us your favorite silicone free gel to use!