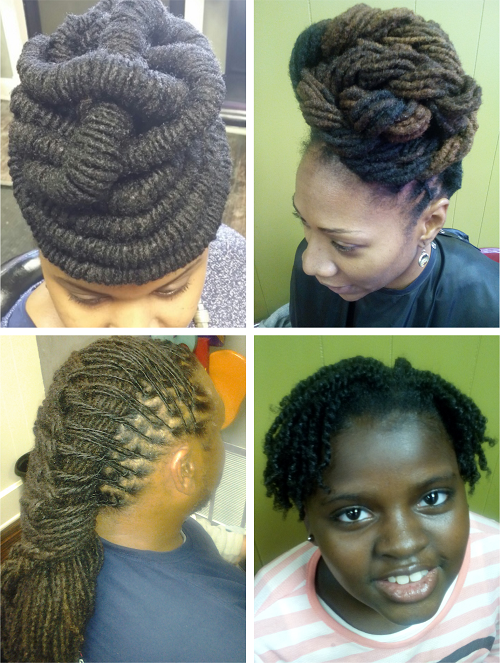 Introduce yourself and which salon if any you work at…
Hello! My name is Nichole LocStar Bennett, loctician and owner of Loc 'N Roll Hair Studio.
How long have you worked as a licensed cosmetologist (or equivalent in your country) and where did you study?
I have been a licensed cosmetologist since 2010. I have 18 years of experience with locs and natural hair.
What is your specialty, relaxed, natural hair, locs or anything special?
I specialize in locs, twists, protective styling, custom hair colour and makeup application.
What in your opinion is the most rewarding thing about working as a hair stylist?
That moment when the client looks in the mirror with a huge grin and says, "I love it!" Is the most rewarding part of being a stylist!
When you meet that customer that has not had a great experience with a previous stylist, how do you make them comfortable while in your chair?
I am very thorough in my consultations. I ask what didn't they like about their not so great experience and deliver what they want. I ask plenty of questions and allow them to do the same.
If you could change one thing about the cosmetology industry what would that be?
I would make it mandatory for barbers to take continuing education courses.
Where do you see yourself a few years from now, what are your goals as a stylist?
I envision my salon/name as a global brand/franchise.
How do you stay motivated and on top of your game?
I take ceu courses on all types of hairstyles and translate them to loc'd hairstyles. I also peruse social media to see what is hot.
Here is a chance to sell you 'the stylist' and your business, tell us why we should utilize your services?
I love enhancing the beauty in others. I encourage people to embrace and fall in love with their virgin hair. I have over 18 years of natural hair experience. My work has appeared in Essence Magazine, Sophisticate's Black Hair Magazine, on Television (Boss, Season two), and several other publications dedicated to hair.
Where can we find you and how can we contact you for an appointment?
Loc 'N Roll Hair Studio
605 Sibley Blvd
Calumet City, IL, 60409
708-845-1800