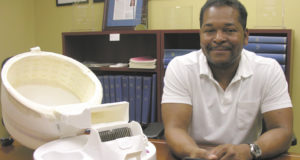 Sometimes when you watch or read the news you can actually find something good. I do not know about you but an invention that involves drying my hair a lot faster is right up my alley!
Martin McCurtis is from Jackson Mississippi and he has a small problem. He was tired of watching his wife suffer under her hair dryer* for hours on end.
He could not understand why drying hair took so long and decided to take a stab at trying to make the hair dryer* faster.
He started playing with his wife's hooded hairdryer and used his knowledge about evaporation to create a prototype that is not like anything else on the market, he calls it the Momentum Dryer. Accordng to WJTV:
Martin explains, " It directs hot air, meant for drying, in an upper direction, once it makes contact with the moisture in the hair, the moisture turns to vapor and there is an exhaust fan at the crown of the head that pulls out the excess humidity and this upward air flow actually draws fresh air into the breathing space of the user."

McCurtis says his Momentum Dryer dries in half the time, won't leave tracks on your head, and you won't mind sitting under it.

He beams," It's comfortable. There is no hot air blowing into the breathing space, and for the user, it's a healthier option for your hair and scalp."

McCurtis envisions millions of Momentum driers in Salons from Mississippi to Milan, but money is holding him up.

Martin says, " If there is a nice investor out there that would like to form a partnership, I am definitely open for it." In the meantime Martin is trying to raise about money through an indiegogo page.
Martin is hoping the Momentum dryer can start selling within about 10 months if he gets the investor he needs. For now he is focused on salon driers but when he develops one for the home I will be first in line to get one!
Watch his video below: