There will constantly be a fuss about why us kinky*, coily, nappy haired women have no true to texture weave out there. Don't get me wrong, they exist, but they are crazy expensive! A variety of brands are completely accurate when it comes to blending their products with 4a-4c hair textures. Hallejuah to that! The concern is, why so costly?
Most of the best brands will tell you they use 100% human hair which might explain the price, but help a sista on a budget out, will ya? We need inexpensive hair.
Well maybe that won't happen soon enough, and the only solution to that is to settle. You see, there are inexpensive hair extensions* out there that can be easily matched to kinky* hair. The problem is knowing what to pick. So let's just come up with a brief list and all you have to do is find one to match!
This one is a WIG*! It comes in the box curly, but combing it out will give if that frizz we can manipulate and play with. It is only $30 online, and it also comes in several ombre and solid colors. Search this wig on YouTube to see the different ways YouTubers have manipulated this exact wig*
2. Outre Indian Baby Soft Wave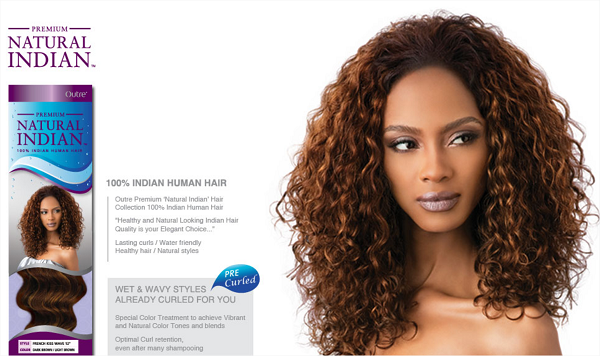 Many women have a love and hate relationship with this hair. It comes in a wide variety of colors, and one pack could only cost you around $15-$30. This human hair is shockingly soft when first installed. As it ages, its softness lingers. The beauty of this hair is it that it is wet and wavy and in the pack and it is pre-curled.
To match it to a 4 texture, grab an afro pick and comb the curls out, this will leave it somewhat curly but frizzy. If you dislike the frizz, add water and the curls will come back. This hair can be tweaked to match any texture 4 hair, but be careful because it can get really big really quick!
On the other hand, there are complaints about the amount of hair shedding, but hey, you get what you pay for, right? Commonly, this hair is used by wig lovers because it is perfect for making a wig. The older this hair gets, the more natural it looks and only two packs of this will do, unless you are going for a more bigger style.
Yes, this hair can be manipulated and inserted so many ways. A great method to deal with this bulk hair is to crochet it in. That's right, this style can actually look realistic due to its texture. Depending on which brand you get, it can cost you around $4.99-$6.99 a pack for Marley hair.
Jumbo braid hair is much cheaper but not as natural looking in comparison to Marley hair. Of course, Marley hair comes in many colors, but I suggest sticking to the natural colors if you want it to be believable.