A few years ago I wanted to try a recipe I found online for a natural deodorant in which the main ingredient was baking soda. I made the recipe according to the instructions and used it that very first day, I was amazed that it worked so well, no body odor whatsoever! The following day, my underarms were a bit tender but I went ahead and used the deodorant again anyway. The third day after applying the deordorant, my underarms were itchy and felt like they were burning plus my skin under there looked red and raw. Needless to say I washed it off and stopped using that natural deodorant immediately.
Thinking that the mistake had been mine for using a recipe that called for too much baking soda, I then opted to purchase a baking soda based natural deodorant from Amazon. Unfortunately the results were the same as with the one I had made at home. Yet looking at the reviews, some people were indeed having the same problem that I did but others gave it glowing praise, they were clearly enjoying using it. What gives?
Good ole sodium bicarb, is sort of an all-rounder when you think about it. It has been used as a cleaning agent to brighten whites, deodorize refrigerators and cupboards, and as an ingredient in makeup products.
Chances are you have even seen it used to help cleanse hair. But baking soda as a hair texturizer? Well that's hmmm… interesting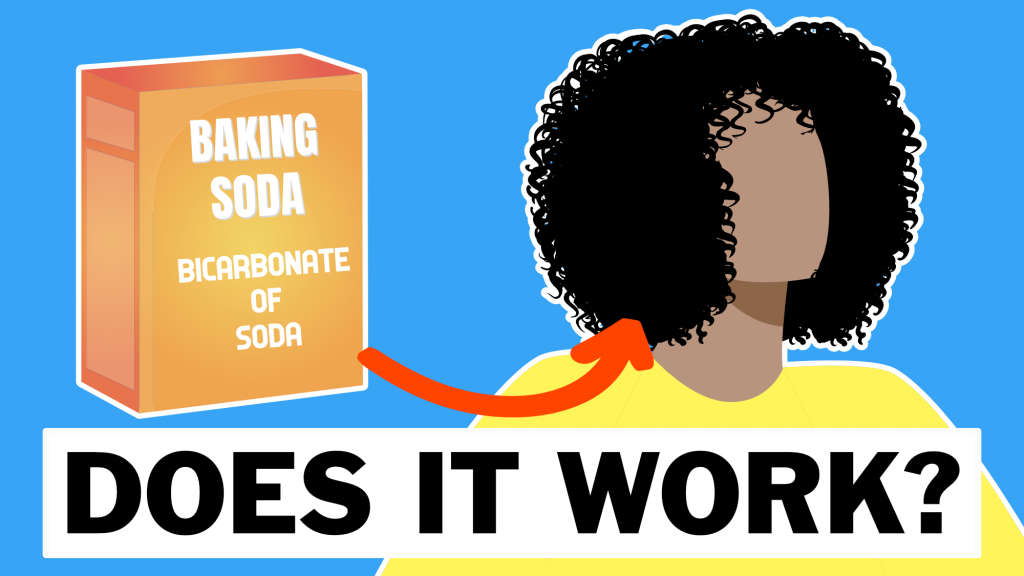 Over a decade ago it became a hit amongst naturals when a Youtuber called Cherry Lola shared a homemade treatment involving baking soda which apparently helped to tame frizz and define curls. Needless to say it was all the rage until another random YouTuber told us that baking soda was evil and should never be used on hair.
Some in the natural hair community stopped using it worried that it would permanently change their curl patterns while others threw caution to the wind and used baking soda with abandon. So what is the truth? Is it actually a texturizer?
The talk of baking soda as a texturizer is nothing new, and has made its way around hair forums and blogs for a good number of years. You may have heard people refer to it as a 'baking soda relaxer'.
An early mention of baking soda as a relaxer came from an instance in which a blogger left a mix of 3/4 cup of baking soda and conditioner in her hair overnight and woke up with her scalp feeling like it was on fire! Her hair survived the ordeal and afterwards she said that it was truly texturized, shiny and soft.
The veracity of this claim cannot be corroborated independently so who knows how true this is. Still don't try it on your own hair. Nothing good can come out of a scalp that feels like it's on fire.
Moving on, there are a few things to take into consideration as it relates to the notion that baking soda can texturize or relax hair. The fact that baking soda has a pH of 9 which is close to the pH of 11 often found in relaxers does not necessarily mean that it will deliver the results of a relaxer. It takes more than just alkalinity to create a true relaxer.
Bentonite clay is also alkaline with a pH of 9 and yet nobody claims that it straightens hair. In fact, scientific evidence, as it pertains to baking soda, says that there is no significant change to hair between the pH of 4 and 9. In other words, dont expect straight hair.
In addition, where people might have experienced supposed changes in curl pattern, you must remember that properly moisturized hair will act differently than hair that is struggling to retain moisture.
Another major factor is porosity. If you have low porosity hair, the baking soda will lift the cuticles enough for your hair to absorb moisture in a way it never has before. The resulting hydration that you are not used to could be mistaken as a sign of texturized or relaxed hair.
It's true that the Cherry Lola treatment helps particularly those with low porosity hair to tame frizz and get more curl definition through increased moisture so the treatment is not so much a texturizer as it is an amplified deep conditioner* that aids maximum hydration. If you have come across the Cherry Lola treatment you know it consists of three ingredients.
The recipe is pretty simple. You need:
Mix the ingredients together in a large bowl. The mixture will begin to fizz and foam like mousse. Apply the mixture evenly from root to tip and leave on your hair for 20 – 45 minutes with a plastic cap to catch the drips. Rinse and enjoy!
It has already been established that the treatment doesn't truly texturize your hair in the traditional sense, but what it does is it helps very coily hair with clumping so that your natural curl pattern is more visible.
You may very well end up with a result of softer shinier hair and better definition of curls that hang down instead of sticking outwards.
So how else might you use baking soda to get these results? Here are 3 other ways you can try:
1. Mix it up with water to create a paste then slap in on your hair.
2. You can also combine baking soda with enough conditioner to make a thick cream and apply it on your hair.
3. You may even mix it with milk of magnesia (another alkaline product) to make a thick paste before applying it to your hair.
In terms of how long you should leave it in your hair, 20- 30 minutes is best. As mentioned before, some people have left it on for hours on end or even overnight to get the "texturizer" effect but I would be very wary about leaving something so alkaline on my scalp and hair for longer than 45 minutes.
Remember that when it comes to hair care or personal care of any sort, it's not one size fits all. Case in point, my unfortunate experience with the natural deodorant. What that experience taught me is that just because something works for other people doesn't mean that it will work for me.
Still if you would like to try using baking soda in your hair, the Cherry Lola treatment appears to be the safest option because yogurt being slightly acidic will reduce the pH of the baking soda, which will make it gentler on your hair and scalp.
Secondly, the treatment infuses amino acids, which is a protein, directly into your strands which can help with strength for weaker hair.
Now it is always important to weigh the pros and cons to make sure that you are doing the right thing for your mane.
That being said it is not recommended that you incorporate baking soda into your regimen if you already have high porosity hair. The reason for is that although baking soda is completely natural it is also highly alkaline and will lift your cuticles.
High porosity hair already has too many gaps in the cuticles so if they are are lifted further your hair will have a more difficult task retaining moisture.
Similarly, if you have very fine hair you would be better advised to stay away from baking soda treatments too.