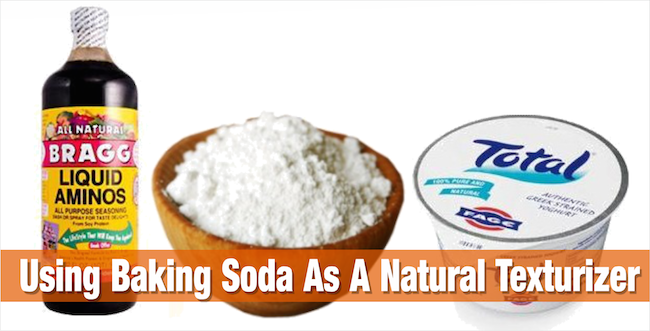 Ah baking soda. To begin with we loved you then Kimmaytube told us you were evil after which many of us disagreed and threw caution to the wind because it's 'all natural' so couldn't possibly be that bad. What's a girl to do when a baking soda texturizer comes 'a calling?
In spite of the warnings, baking soda has been used in beauty regimens quite successfully for many decades. Some people use it to cleanse their face, clean teeth or even as a natural deodorant!
Using baking soda as a texturizer is nothing new, it's made its way around hair forums and blogs for a good few years. I've heard a few people refer to it as a 'baking soda relaxer' but it takes more than just alkalinity to create a true relaxer so don't expect straight hair!
The treatments below don't truly texturize your hair in the traditional sense either in that they will not relax your natural curl. What happens is that they help very coily hair with clumping so that your natural curl pattern is more visible. The end result is softer shinier hair and better definition of curls that hang down instead of sticking outwards.
There are a few old but epic threads on various forums with ladies using baking soda as a texturizer. From what I gathered, there are quite a few ways to use it.
1. Some ladies just mix it up with a water to create a paste then slap in on their hair.
2. Some combine baking soda with enough conditioner to make a thick cream and apply it.
3. Some even mix it with milk of magnesia (another alkaline product) to make a thick paste before applying.
In terms of how long they are leaving the mixtures in their hair, it varies widely. Some are leaving it in for 30 minutes and some for 7 hours!


I would be wary about leaving something so alkaline in my hair for longer than 45 minutes. There's been a horror story of a blogger leaving a mix of 3/4 cup baking soda and conditioner in her hair overnight and waking up with her scalp feeling like it was on fire! Her hair survived the ordeal and afterwards she says that it was truly texturized, shiny and soft but please be sensible if you do decide to try this.
It's not all doom and gloom, Naturally Nike who was featured on BHI very early on in her hair journey also uses and recommends baking soda but she only uses 2 tablespoons mixed with her conditioning ingredients and she's got fabulous hair! See her fotki page here.
The Better Option
A blogger called Cherry Lola created a treatment coined The Cherry Lola Treatment that uses baking soda, yogurt and amino acids. It helps with clumping, defining curls and giving them better hang.
The recipe is pretty simple. You need:
16oz plain or greek yogurt
2 tbsp Braggs Liquid Aminos and don't substitute this for anything else
2 tbsp Baking Soda
Mix the ingredients together, the mixture will begin to frizz and get foamy like mousse. Apply the mixture evenly from root to tip and leave on your hair for anywhere from 30 minutes to 1 hour with a plastic cap to catch drips.
Rinse and enjoy!
I call this a better option for two reasons. First because because the yogurt being slightly acidic will reduce the pH of the baking soda making it gentler on your hair and scalp and secondly, the treatment infuses amino acids (protein) directly into your strands. Cherry Lola along with many other naturalistas have tried it and have had extraordinarily good results!
Although baking soda is completely natural it is also highly alkaline (like a relaxer) so it will make your strands swell. If you have very fine hair you would be better advised to stay away.
Originally posted 2013-01-02 23:28:49.