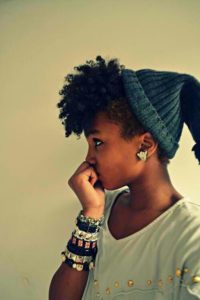 Greenhouse Effect (GHE)
This is something else that's excellent for natural hair but may not be extremely popular. The greenhouse effect means lightly spritzing your hair with water at night (only enough to dampen it) before putting on a shower cap(affiliate link) and satin bonnet(affiliate link) and going to bed.
The shower cap(affiliate link) and bonnet lock the moisture in and added with the heat from your head create a steam session for your hair. The next day, you can follow up by sealing with your favorite oil and cream.
The only thing to keep in mind when doing the Greenhouse Effect is that it won't do the best in preserving your styles. If you have a braid out/twist out (practically anything other than a wash n go) you may want to redo the style at night before adding water. You may not want to do the Greenhouse Effect everyday, but do it as much as your hair needs.
Spritzing Hair Daily
If you're familiar with the LOC Method then you know that the first step is moisturizing hair with a liquid. Just because you do the LOC Method once a week for wash day doesn't mean that your hair can't use more moisture.
Invest in a cheap spray bottle and fill it with a spray of your choice- the most popular mix is water, leave in conditioner(affiliate link), and perhaps an oil of your choice. Spray it in your hair as often as needed to refresh your curls and bring back moisture.
If you don't want to create your own, you can purchase a leave in conditioning spray from your favorite brand and use that instead. You just need something that you can lightly dampen your hair with in between washes. Just like with the Greenhouse Effect, you can follow up with the oil of your choice afterwards.
These are four different and sometimes overlooked steps that can help restore moisture to your hair during the harsh winter weather. They also carry through and work in every other season. If you notice that your hair has been a lot drier than normal and you can't figure out why, try implementing one or all of these steps in your regimen and see if you notice any changes. Your natural hair can remain soft, shiny, and moisturized in all seasons.
Originally posted 2014-11-20 15:00:40.