If you are desirous of keeping your hair healthy and reaching your length goals then you might be interested in knowing the top 5 reasons why wigs are perfect for growing your hair long.
With work from home schedules adding a degree of difficulty to life by demanding more of our time and blurring the lines of distinction between what is downtime and work hours, the hair journey can suffer. Hair already demands so much time to maintain so having something else added to the pile of things needing urgent attention can have us feeling like throwing in the towel in our quest for healthy hair. But what if I told you there is a way to stay on top of it all?
Wigs have been around for ages and at one point only the very rich could afford to wear them. They have survived through the ages because it is important for us to look our best and be confident while reppin' who we are.
Nadula understands this and has made it the cornerstone upon which their service is built. That is why they have hundreds of products in their line of wigs that are suited for every woman. Since there is no longer a question of class or creed preventing people from wearing wigs, it is only natural that we explore how a wig* could be a worthwhile addition to your regimen and healthy hair journey.
1. They Are Practical
For starters, a wig is perhaps the most practical option for someone who is on the go. Frankly speaking, though the world might have slowed down a bit in some respect, some of us are just as busy if not more so.
It means that having something that you can grab n' go, simplifies life for us. It is functional since wigs come styled and the end result is stylish and aesthetically appealing, giving you the extra burst of confidence to tackle your hectic schedule. Be it in person or virtually, you can still maintain a presence without much fuss by affixing a Nadula kinky straight hair wig or one of their other luxury wigs.
A wig really just limits the guesswork and is practical because it is already styled. Your hair will rest from all the manipulation and still retain the moisture content needed to create ideal conditions for growth since a wig will keep some of the moisture from escaping while mimicking the greenhouse effect that boosts growth.
2. They Are Economical
When you have loads to do it makes sense to outsource some things, but getting a stylist to do your hair every week or every other week can add up. If you are a natural, styling products along with all the different kinds of butter, oils*, and treatment concoctions can be a strain on your pocket.
A wig can help you save a few hundred bucks monthly and who wouldn't want to save money in these harsh times? There are some really economically sound options for wigs in any style that you like.
3. They Help Limit Weathered Ends & Breakage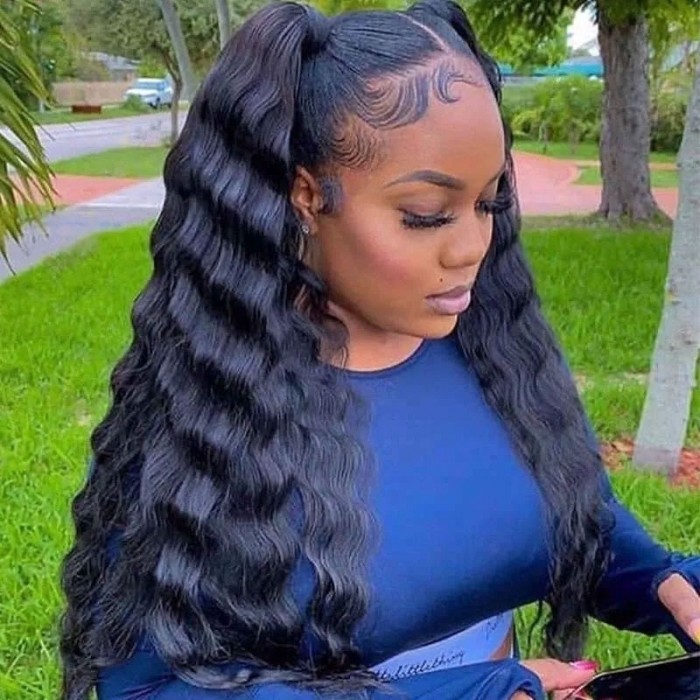 Let us address the horror stories that have often given wigs a bad rap. Sure, we have heard of instances where wearing weaves, wigs* and extensions* have damaged scalps, but this does not negate the fact that wigs* are great protective styles.
The truth is that those who suffered damage while wearing wigs just had the unfortunate experience because they were not installed correctly. With such a wealth of information floating around and greater knowledge of how to maintain healthy thriving afro-textured hair, there really is no need for that to be your reality.
You can successfully wear wigs without sustaining any damage to your own hair. In fact, a wig can protect your hair from the harmful elements that can cause worn weathered ends. In addition, by virtue of the fact that your hair will be safely tucked away under the wig, breakage can be avoided.
This is because the hair that would have easily dried out from exposure to the elements, or subjected to frustrated, tired hands and styling tools during the styling process would be tucked under a wig which would serve as a line of defense. In fact, it is great for those of us who have "Hand-in-Hair Syndrome". With a wig installed we can't get at our delicate strands to pull our edges out or pop our ends off.
4. They Save Time
Given all we have said so far this should be obvious, but it warrants repeating. Wigs help you save or reclaim time. Consider how many hours you have invested in styling. That could be reduced significantly if you use a wig as a go-to style. Have somewhere to be but not enough time to style your hair? Wigs to the rescue!
Some of us have been branded as lazy naturals owing to the fact that we just cannot get with the rigorous rituals that constitute styling our hair to make it presentable by society's standards, but if we were to try to conform to those rituals, we would probably end up ripping through perfectly healthy strands in frustration because hair care can suck so much time.
All things considered, there is no shame in being a lazy natural because wigs have us covered and the wigs are so good these days that there is one to suit every hair type, style, and personality so who's gonna know? You can still be on trend with a Nadula black curly wig or any other wig from the line that suits your style and no one would be the wiser.
5. They Are Perfect for Getting Through Awkward Phases in the Hair Journey
The rigors of life can take a toll on us both emotionally and physically. The manifestations of the impact life's crises have on us are often evident in the condition of our hair. At every turn of life that produces an awkward phase in our hair journey, a wig can help save the day.
For you that awkward stage might be: regrowing hair after chemo, trying to look your best while dealing with alopecia, learning to overcome the insecurities of showing your hair in public after a big chop, or recovering from postpartum shedding.
In these instances, a wig helps you regain confidence so you can face the scrutiny of a harsh world. In any event, if you find yourself going through any of these experiences, a Nadula long lace front wig might be the companion you need to help you adjust or live through the phase. Not only would it allow you to endure the critical stares of others, but it can also revive confidence that is often crushed when life presses us hard.
About Nadula
Since 2001 Nadula has established itself as a trailblazer in the industry by developing products that have since been copied by other brands, but their commitment to creating high-quality goods and stellar service to their customers is part of what sets them apart.
They even boast a robust coupons program that enables their customers to access luxury items at affordable costs. Imagine being able to gain hundreds of dollars in coupons to splurge on your next wig and still have access to countless discounts on luxury lace-front wigs and hair bundles*! Here are some of their offerings:
When it's all said and done it is great to be able to identify a company that prides itself on service delivery and great products because at the end of the day, we want value for our money and if we are going to use wigs as a way to get to our hair goals then they have to look great and make us feel great. Think about it, if you want to be a hair-growing ninja growing your inches in stealth, a wig is just the perfect cover.
Final Thoughts
Having explored all the reasons why wigs are perfect for helping us reach our length goals, the ball is in your court. You might want to head on over to the website to see about adding a wig* or two to your arsenal.
We will leave you with a video of one of the luxurious wigs from Nadula.
Check out their channel for other great looks and to purchase some of their amazing wigs, head on over to their website.
Disclaimer: This is a sponsored post which means that BlackHairInformation.com may have received compensation for including it on our website. For full details please view our Disclaimer statement and Affiliation disclosure .