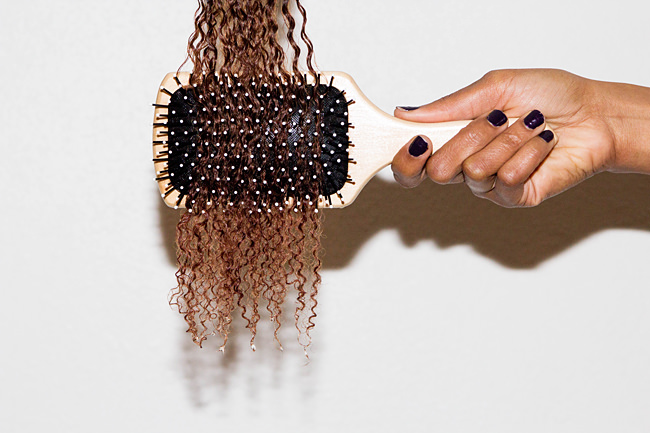 Mechanical Reasons
5. Excessive Styling And Stretching The Hair
Over manipulation of the hair can cause stress to your strands and cause thinning. Excessive pulling can also cause bald spots, this usually will happen from wearing tightly pulled ponytails and other styles that pull hair most notably braided styles, dreadlocks and weaves* which cause the condition called Traction Alopecia.
Your hair should never be so tight that is causes a headache or discomfort. Wear loser styles and take a break in between wearing protective styles to prevent unnecessary breakage.
6. Using Improper Hair Tools
Using the wrong hair tools such as combs with teeth that snag, broken bobby pins* or unsuitable hair bands can break or tangle your hair and cause a severe amount of breakage and hair loss. Your hair accessories should never snag your hair. Throw out any hair combs or pins that are damaged or frayed and can snag your hair.
7. Regular Heat Styling
Adding constant heat to your hair is a sure way to ensure damage to your natural hair. Heat styling isn't a bad thing, but exposing your hair on a regular basis can lead to heat damage, dry hair and excessive breakage.
Before heat styling be sure to take precautions against damage such s detangling properly, using a thermal protestant and styling on lower heat settings can help prevent breakage and excessive hair fall.
8. Damage From Color Treatments
Chemical hair coloring systems (primarily those at-home coloring kits) are filled with harsh chemicals and synthetics that can really damage your hair. The lighter you color, the more prone your hair is to damage.
Your hair will require more moisture and TLC than before. Coloring your hair a lighter color may leave your hair dry and brittle if not properly maintained. Severe breakage is the main type of hair loss seen in color treated hair.
9. Using Harsh Hair Products
Hair products containing sulfates can be very harsh on your hair. Shampooing regularly with sulfate shampoos can be drying to your hair and lead to breakage. Use a sulfate-free moisturizing shampoo instead to cleanse your hair without harsh foaming agents.