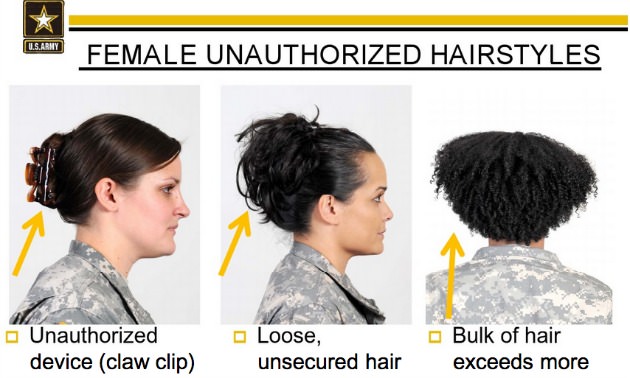 This is the exact copy of a petition that was submitted to the Obama Administration on March 20th in lieu of the "new changes" to AR 670-1 to allow professional and otherwise ethnic hairstyles to be worn while women serve in the United States Army.
"More than 30% of females serving in the military are of a race other than white. As of 2011, 36% of females in the U.S. stated that they are natural, or refrain from chemically processing their hair. Females with natural hair take strides to style their natural hair in a professional manner when necessary; however, changes to AR 670-1 offer little to no options for females with natural hair. In the proposed changes, unauthorized hairstyles include twists, both flat twists as well as two strand twists; as well as dreadlocks, which are defined as "any matted or locked coils or ropes of hair." These new changes are racially biased and the lack of regard for ethnic hair is apparent. This policy needs to be reviewed prior to publishing to allow for neat and maintained natural hairstyles."
Before we get into our commentary, let me share the new rules along with pictures just in case you might misunderstand what is written.
Updated Female Grooming Standards include the following:
• Clarifies unauthorized hairstyles (dreadlocks & twists)
• Twists
○ Defined as twisting two distinct strands of hair around one another to create a rope-like appearance.
○ Although some twists may be temporary, they are still unauthorized.
○ This includes twists formed against the scalp or in a free-hanging style.
• Dreadlocks
○ Defined as any matted or locked coils or ropes of hair (or extensions*).
○ Any style of deadlock (against the scalp or free hanging) are not authorized.
○ Any unkempt or matted braids or cornrows are considered dreadlocks and are not authorized.
Obviously this information is not necessarily meant to be public knowledge but with the magic of the internet, news of the new rules along with the images we shared were leaked online and have caused quite a stir.
This is a particularly serious issue with arguments on both sides. There is a clear suggestion that natural hair in its most organic state is unkempt and should be subject to some structure.
To stipulate that hair should not be more than 2 inches above your scalp would indicate that if you are natural, loose hair that is thick or dense is not allowed, you are allowed to wear cornrows but size matters as the picture shows and don't think you can get away with just any bun because size matters on that as well. With all that said, are these rules really new?
Perhaps they to us civilians judging by the uproar that the leaked images have caused online however if you read the comments from army officials on the same story around the web, they don't seem phased by it, one commenter went as far as to say that the army is voluntary and as such if you cant take the heat then get out of the kitchen.
There are rules against religious head wraps, facial hair, long hair for men, beards and the list goes on and on. The rules are blanket so as to protect leaders from being labeled as racist or discriminatory during enforcement and also to prevent 'distractions' and comfort when wearing military gear.