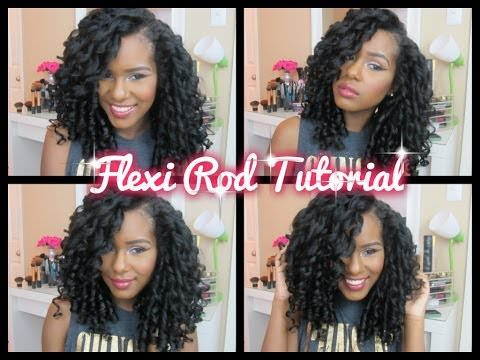 In the video I am about to share Kelsey mentioned that this hair style is great for a summer wedding or something to that effect. I happen to agree with her considering I have one coming up in August and this style would be perfect. With flexi rods* the technique is what is important, so if you want long spirally curls, you have to use the length of the rod to achieve it.
Kelsey mentioned a few tips for a great set and we have a few as well:
► Set your hair the way you want it before installing the rods – This means making sure your part is on the side of your head that you like it, or if its a middle part, you can separate your hair into two halves.
►Roll the rods away from your face– For some reason this makes the curls look extra fly, and just more defined. It took me years to realize this, but that mistake never happened again.
►Let those babies dry – Honestly an overhead dryer might be your best bet. You can absolutely air dry but if your hair is thick ain't nobody got time for sleeping all crooked and then waking up to wet hair.
►Use a holding product – As a matter of fact make sure all your products are of great quality when you do a set like this one. You do not want to unravel your hair and end up with flakes and you also want your curls to last throughout the week or at least throughout the event you are attending.
►Separate your curls but not too much – This kind of depends though, if you are attending something then we would say separate to your desired look. If you are planning to wear the style all week, take your time with the separation, by Friday you hair should be huge but still sexy.
Check out the video :