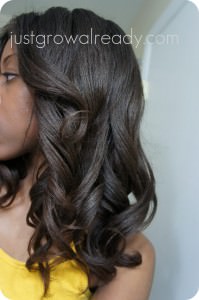 How did you first get involved in hair care?
I'd always been interested in hair on some level prior to starting on my healthy hair journey but my haircare obsession took off at the start of 2009. I'd accepted to be Maid of Honor for one of my closest friends and made up my mind that I wanted to wear my own hair for her wedding – I'd always worn weaves and buns for weddings in the past. I hopped on Google, found hair boards and forums, and I was hooked.
What was your starting length, before you ever began a regimen?
I began with uneven, shoulder length hair.
Can I just say that your hair is gorgeous! I know that you recently started texlaxing your hair instead of relaxing bone straight. Why did you make that switch?
Thanks so much Alma!! It was a complete accident, haha. In April, 2011, I decided to self-relax my hair. It actually took me four months to realize that my texture wasn't uniform. While moisturizing my hair one day, I noticed a wave pattern to my hair and after snapping a photo, discovered that I had about 2 inches of wavy texlaxed hair. I hadn't even considered texlaxing my hair, but what's meant to be will be apparently! I toyed around with the idea of transitioning to texlaxed for a few weeks but seeing how much thicker my texlaxed hair was compared to my bone straight hair was the deciding factor to keep texlaxing.
How would you describe your natural texture?
My nape is 4a and the rest of my hair is 4b, fine, but dense strands. Left undisturbed, my new growth forms coils (except at my nape, the hair there didn't get the memo) that I can't help but play in during my stretches.
What is your typical weekly regimen?
Each week, normally on the weekends, I start off by either doing a hot oil treatment (usually grapeseed* or safflower oil) or applying conditioner to my hair for a minimum of 30 minutes. Next I shampoo in four sections (I do one section at a time). I focus on shampooing my scalp with one hand while holding the length of my hair with the other to decrease tangles. After shampooing, I apply a smoothing conditioner for a few minutes to help smooth out
the texture and decrease tangles. My current (and fave) smoothing conditioner is Paul Mitchell Super Skinny Daily Treatment. Then I deep condition for a minimum of 30 minutes, either under my heating cap or steamer*. After I deep condition, I apply leave in conditioner*, serum, detangle using a wide tooth seamless comb*, and proceed to roller set or air dry my hair… but I predominately air dry now.