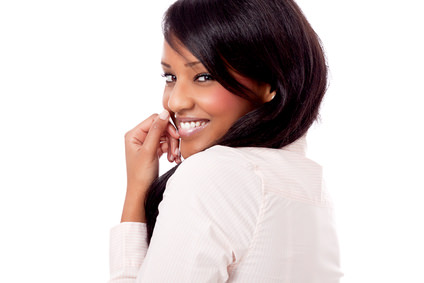 Relaxed ladies don't often think that heat damage applies to them because unlike with natural hair, you are not immediately able to see evidence of the damage.
But this is totally wrong and in fact relaxed hair actually more prone to heat damage having been through the harsh chemical process of a relaxer.
When you are flat ironing relaxed hair your are adding heat to hair that has already lost some of it's innate strength and is also more porous than natural hair.

Eventually heat damage to relaxed hair will present as increased breakage and due to heat's tendency to damage hair's cuticles it may also present as hair that is even more porous which means that it has less elasticity and often feels dry and brittle.
Applying direct heat to relaxed hair by way of a flat iron* or a curling iron* should only be left for special occasions, and by that I mean your birthday or graduation, not your cousin's wedding or a Wednesday!
But for those truly special occasions where you feel the need to wear your relaxed tresses ultra straight and silky smooth, there are a few things you need to do to prevent heat damage.
Step 1: Preparation

Before washing your hair, do a pre poo or hot oil treatment. This extra step protects your hair from getting stripped when using shampoo. Some oils* will actually infuse into your strands adding strength, smoothing the hair shaft, adding moisture and shine.
Apply the oil or your prepoo of choice throughout your hair from root to tip to ensure even coverage. If doing a hot oil treatment you can do a simple treatment with one oil or you can combine oils* with herbs that benefit hair to make the experience a little but more luxurious.
However you choose to get it done, hot oil treatments increase moisture retention which then increases hair's elasticity which by all accounts is a win win situation.
Step 2: Washing
Cleanse your hair thoroughly to remove buildup and anything that would contribute to dullness when you flat iron* your hair. If you need to use a sulfate shampoo to really get rid of hard to reach buildup or you were too heavy handed with the hot oil treatment then by all means do so.