Which one is for you?
Relaxing, texturizing and texlaxing are in actual fact quite similar. All 3 involve the use of chemicals which are either Sodium Hydroxide based (lye), potassium* hydroxide, lithium hydroxide, or guanidine hydroxide based (no lye) or ammonium thioglycolate relaxers commonly known as 'Thio relaxers'.
In essence all relaxers and texturizers penetrate the hair shaft causing it to swell and breaks it's internal bonds which changes the hair texture from curly to straight. While all three processes are pretty similar, the length of time the chemicals are left in the hair and the type of chemical used, determine whether the hair is relaxed, texlaxed or texturized.
Determining which process is best for your hair depends on a number of factors. Mainly:
The health of your hair and scalp
Chemical treatments should only be applied to hair that is healthy with no scalp issues evident.
The porosity of your hair
High porosity hair absorbs much faster than normal or low porosity hair. Relaxers as a rule tend to increase the porosity of hair strands so if your hair is already high porosity to begin with, a relaxer may damage your hair beyond repair leading to major breakage. In this case gentler treatments like texlaxing or texturizing may be your best option.
The thickness of your strands
If your individual hair strands are fine then they may be unable to withstand a full relaxer process, this is a common reason why some women experience breakage when they relax their hair.
A strand test must always be performed before attempting to process the hair with any chemical. This tells you or your stylist the ideal processing time for the result you are looking to achieve.
Bear in mind that a person may have a variety of textures on their heads which may require a different processing time for each section. This avoids any over or under – processing of the hair.
First off: Relaxing…
Relaxing
Relaxing hair involves the use of a Sodium Hydroxide hair relaxer (Lye Relaxer) which is the strongest and gives the most dramatic effect or a Guanidine Hydroxide hair relaxer (No Lye) which is considered healthier for hair based on its lower alkalinity.
The relaxer is applied to the hair in sections then smoothed through with the fingers or with a comb until the desired level of straightness is achieved or until the processing time elapses.
The relaxer is then rinsed off thoroughly and then washed multiple times with a neutralizing shampoo which stops any more relaxer action which could over-process the hair. Relaxed hair tends to be either bone straight or with a slight curl when wet that then dries straight depending on the method used.
Pros of a relaxer:
Easier detangling of the hair as hair can be combed easily without much pulling or tugging.
Many like the look of 'bone straight' hair.
More variety with sleek straight styles without having to use much heat
Cons of a relaxer:
Notoriously difficult to maintain length without the use of many products to strengthen the now weakened hair
Breakage begins if hair is not constantly conditioned to alleviate the inherent dry condition of the newly porous hair.
Touch ups required every 10+ weeks to keep the hair (especially around the edges) sleek and straight which can become quite expensive
Hair lacks body – tends to look a bit flat when first relaxed but can gain back a bit of body as time goes on.
And now a video demonstration on the relaxing process.
Next up: Texturizing…
Texturizing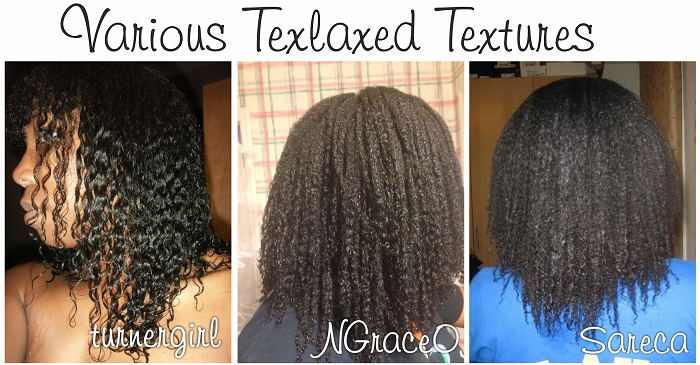 Generally this utilizes a very mild form of a relaxer called a texturizer which is processed according to the guidelines of the product. The aim of this is to soften the hair texture leaving it with 'looser' curls or waves but leaving much of the volume in the hair.
Many women who texturize their hair will tend to continue to wear 'natural' hairstyles like wash and go's, twist outs and braid outs but enjoy the softer easier to detangle hair that texturizers give them.
The texture of the hair after the texturizer depends a lot on the initial curl pattern of the hair. Large corkscrew curls will become S-shaped curls after a texturizer, tighter curls will look loosened and hair but may not have a definite curl pattern. Most common result as time goes on is that hair gets progressively straighter.
Pros of a texturizer
Easier detangling of the hair as the texture has been softened
May impart more of an even curl pattern to those who haven't got it while leaving a lot of volume in the hair
Less frizz is experienced with the curls left in the hair
Less shrinkage is experienced
Easier to style – straighten etc as hair does not revert very quickly
Cons of a texturizer
As the hair has been chemically treated, constant conditioning and protein treatments are required
Breakage may ensue if not taken care of properly
Touch ups are necessary. They are not required as often as with a relaxer but would still be needed to keep the look
If care is not taken during the touch up of the texturizer, the 'run off' when rinsing the chemical out could make the previously texturized hair turn straight so its not uncommon to find a multitude of textures including straight ends on people who texlax.
And now a video demonstration of texlaxing:
And finally: Texlaxing
Texlaxing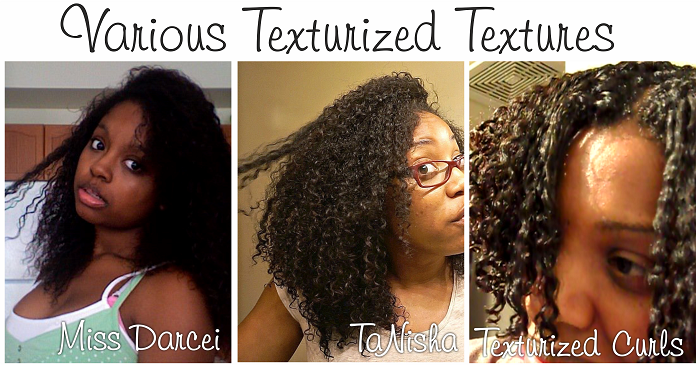 This is a term that was coined in hair forums and is done more or less the same way as a texturizer in that it aims to loosen the curl pattern of natural hair except that it uses a relaxer chemical instead of a texturizing one to achieve the result.
The relaxer chemical will then have oils*, conditioner, protein or a combination thereof added to it to make it less potent, this is applied to the hair the same way as a relaxer. Again this is left in the hair for much less time than the recommended amount to achieve the looser curl pattern and usually the chemical will not be 'smoothed' through the hair to avoid the hair being inadvertently straightened.
The aim of texlaxing is to loosen the natural curl pattern of the hair but leave a lot of the natural elasticity in the hair for strength. While texturized hair tends to look quite similar to texlaxed hair it can vary widely depending on the degree of curl left or the texture of the hair before the chemical is applied. 3c texlaxed hair looks very different from 4c texlaxed hair and while 80% texlaxed may look just slightly wavy, 40% texlaxed will look just like texturized hair.
Pros of texlaxing
Easier detangling of the hair as the texture has been softened
Gives variety as depending on the curl left behind, hair can be worn in a 'wash and go' style
Hair still has a lot of it's elasticity left behind so is less prone to breakage than relaxed hair
Easy to style as you are still able to achieve a sleek straight look with heated tools without hair reverting quickly.
Cons of texlaxing
The hair has been chemically treated so constant conditioning and protein treatments are required
Breakage may ensue if not taken care of properly
Touch ups are necessary but may not be required as often as with a relaxer depending on the amount of curl left in the hair
Similar to texlaxed hair, texturized hair may also struggle with chemical run off during the rinsing process which may lead to ends having progressively looser textures eventually becoming straight as time goes on
And below is a video demonstration of the texturizing process:
https://www.youtube.com/watch?v=t1C5uE3Bw1g
With this information you can choose which process will best suit your hair and give you the desired results. As always, the health of your hair should not suffer for the style! See the article on how to stop relaxed hair from breaking.