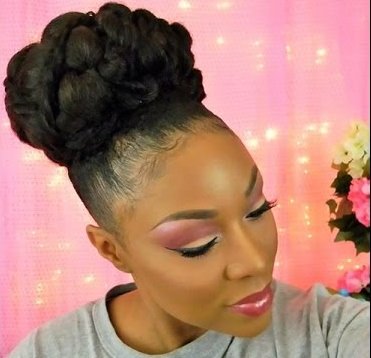 Okay y'all so I am gushing – I mean absolutely gushing over this updo! Now, YouTuber JC Love Beauty calls this a wedding updo, but honey* I would rock this even if I wasn't getting hitched! In the video below, she shows us how she creates her gorgeous bridal bun updo!
Items Used To Achieve This Hairstyle
Hair Spritz- In the video, JC Love Beauty uses her own water and oil mix (consisting of water, Jamaican black castor oil*, grapeseed oil*, and coconut oil*). As yummy as this mix sounds, if you do not have these products you can substitute them with your own oil and water mix.
Gel – In the video, JC Love Beauty uses Eco Styler* Argan Oil* Gel but you can use any gel that you fancy
Soft Bristle Brush- To create smooth edges and a polished bun
Elastic Ponytail Holder– To create a ponytail base for the Marley Twists
Bobby Pins*– To hold the updo and twists in place.
Marley Hair– You will need about 1-2 packs of hair, depending on how many twists that you create and how big you create them. Feel free to use any color that you will like!
Length Needed To Achieve This Style
This style works best on hair that is medium length and longer. If you have shorter lengths, you can customize this style to better suit you. This style is created on stretched hair which you can achieve through stretching methods such as braids, banding, African threading, or through a combination of stretching methods.
If you have an old twistout that you were rocking, that works as well and saves an extra step. Ladies that have relaxed or transitioning hair can also recreate this hairstyle.
Below, JC Love Beauty shows us how she achieves her Bridal Bun Updo!
I am loving this style, and even though I am not getting married anytime soon, I will definitely rock this hairstyle! How about y'all? Let us know what you guys think below!