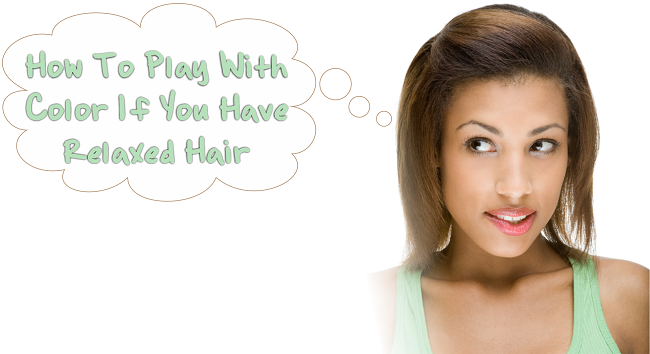 I think that we all can agree that we love changing up our hair from time to time, and changing hair color is no exception. From deep plums to raven black there is no better way to spice up your look than with some a brand new color.
But for us ladies that have relaxed strands, we have to be careful about the type of hair coloring agents that we choose. Unlike our natural haired chicas, for most of us it wouldn't be wise to use permanent hair dye on our fragile strands.
This would definitely lead to broken strands and heartache. Although platinum blondes and Rihanna reds aren't attainable for most of us that want to maintain healthy long relaxed hair, there are other ways to achieve banging, blinging colored stands. Read on to find out how.
1. Semi-Permanent Hair Color
Semi-permanent color or rinses are a great way to play around with different hair colors. Although they do not last as long, nor as they as vibrant as permanent hair color, it is a great way to play with color without the damage.
What is semi-permanent hair color and how do I use it?
Semi-permanent hair color is basically hair dye without ammonia or peroxide. Commonly it is used to darken hair but those with relaxed strands will also have relatively porous hair so you can get a subtle change with darker pigments like plum reds or purples or blues.
To use semi-permanent hair dye, just apply it to your freshly washed hair and let it sit for the time it states in the directions of whichever brand you are using, then simply rinse and style. This is typically the directions for most semi-permanent dyes, but again they may vary.
How long does semi-permanent color last?
Semi-Permanent hair color usually last for 3 months or up to 28 washes.
What are the cons of semi-permanent hair dyes?
The only cons with semi-permanent dyes is that they're not permanent and the color achieved is not vibrant. When you are ready to touch up your favorite hair color, you would have to re-color your whole head again.
Where can I buy semi-permanent hair color?
You can buy semi-permanent dyes/rinses at your local beauty supply store and online.
2. Hair Chalk
The idea of hair chalking has been on the rise again lately as an alternative to adding highlights, an ombre effect, or even coloring your entire head (this would take some patience especially if you have a lot of density) to your hair. But before you ask, hair chalk is totally different from regular school board chalk!
What is hair chalk and how do I use it?
Hair chalk is in a way an easier version of a temporary hair rinse. To use hair chalk, you would have to make sure that your hair is either semi dry or really damp. Then you rub the hair chalk along the length of your strands in which ever fashion you may like, then air dry. You can also blow dry if you are pressed on time.