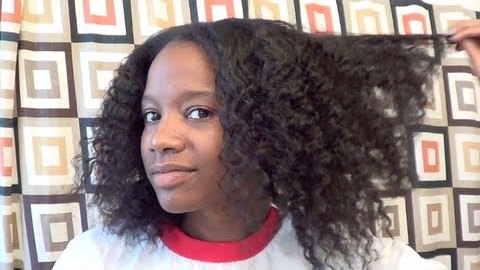 Twist out, shrink, braid out, shrink, Wash and go, shrink, unless you have decided to just accept your shrinkage and some of the negative consequences thereof then you are probably in a cycle of styling and stretching your hair just to show just a little of the length that you have worked so hard to gain.
Stretching natural hair is not only about length though, many of us stretch to avoid the tangling torture of shrunken hair wrapped multiple times around itself, so if you are in the market for an easy way to double stretch natural hair then check out this tutorial by LHDC- TV.
There are other ways to double stretch your hair if you want a little variety along with LHDC's tutorial; we have a few more suggestions that could help as well.
1. Curlformers* – Once you get the hang of using curlformers*, they will seriously give you life especially if you want flawless curls with no heat.
2. Banding – Banding is an oldie but goodie, you will literally need a thousand goodie bands*, ok not a thousand but at least 5-6 for each braid or twist depending on the length of your hair. Braid or twist your hair adding bands down the length of the hair allowing it to dry with the bands on the hair. Your hair will hold the stretch and you will have done it all without heat.
3. African Threading – This practice is all about technique and there are tutorials on YouTube that will teach you exactly how to achieve it. Threading really stretches the hair out, it is by far one of the best no heat stretching methods out there; give it a shot at least once.
4. Bantu Knots – Bantu knots are great because they do stretch the hair but they also give you a gorgeous curl as well. Bantu knots also come tutorial ready, if you do a simple search on them, but the basic method is simply twisting the hair and twirling it unto itself to create a simple knot. In the morning, unravel the knot and revel in your new stretched curls.
Do you stretch your hair? If so share your method below.