My Instagram bio reads, "I carry my testimony in my hair" and I think it's finally time to write a post on what exactly I mean by that statement.
Big Chop
From the very moment I cut my hair, God was doing something greater. I like to think of my big chop as the physical manifestation of my spiritual rebirth. You see, I cut my hair because it was becoming an idol for me. I had already been natural for years and had been doing all sorts of styles.
The problem was, I got so caught up in the Natural Hair Movement and so obsessed with showing off my hair that it consumed me. Every time I got likes on social media and compliments, it boosted my ego and pride. The Bible says that pride comes before a fall. A fall was surely coming.
As I started seeking God more and walking in His ways, I decided that I wanted to get rid of everything that was separating me from Him.
That included unhealthy relationships, wrongful mindsets, arrogance, selfishness, and yes, my hair, because it came in the form of idolatry. I had to let go of what the world defined as beauty. I had to be able to hold on to nothing but Christ Himself. Only in Him would I seek my validation and affirmation.
I was also starting from scratch with God. Although I had attended church and religious school for the majority of my life, that wasn't the same thing as knowing Him personally. Anything I "knew" I had to get rid of so that He could come to me afresh.
The Process
When I started growing my hair back out, I went through some rough stages. There were times where I felt really ugly and wanted my long tresses back. I wanted to be able to hide behind it and find comfort and security in it. I had to learn how to love my hair as it was–no twist outs, bantu-knots or any type of manipulation to enhance its pattern.
When I started walking with Christ, I missed things from my former life. I wanted to go back to the lifestyle that was comfortable for me. I wanted to rest on my excellent grades, good deeds and wholesome upbringing. I had to learn how to build my identity in Christ alone.
Even nearly two years into this journey, I realize that it's always going to be a process. There are times when my hair just isn't cooperating and I want to rip it out my head.
There are times when the faith walk just gets too hard and I want to tap out and live on my own terms. Yet, I know that there is so much beauty in walking out this journey day by day. A compliment on my hair is just as sweet as a compliment on how someone can see God's light in me. For me, the two go hand-in-hand.
Versatility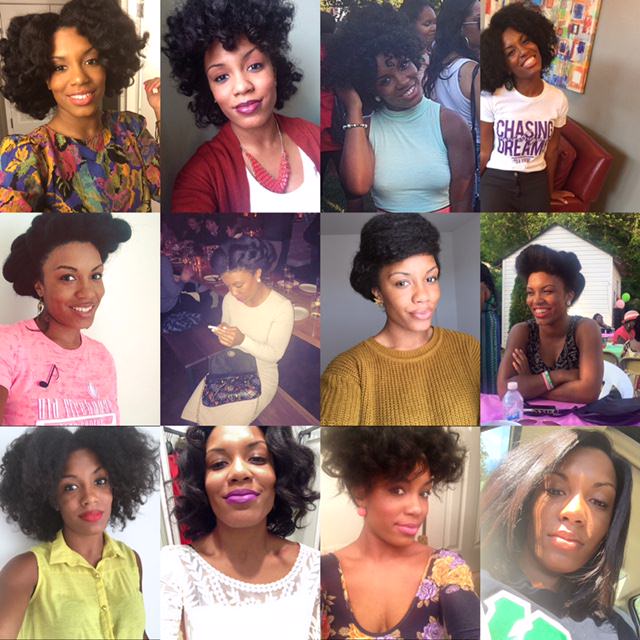 One of the things I love about my hair is that I can do so many different styles with it. It's voluminous, thick and versatile. I like to compare that to my calling. I believe I'm called to do many types of work–and do them well. Just as I could never see myself wearing the same hairstyle for the rest of my life, I can't see myself in the same occupation for a long period of time.
I love writing, interviewing and engaging in thought-provoking discussion. But I also love program planning, spending time with kids and traveling! Just as our hair can look good in several styles, so too can we share God's love in various ways. I'm a firm believer in living life creatively.
On the flip side of this, not everyone has supported my various hairstyles. They might not understand the look I'm going for on a given day. Similarly, not everyone understands my faith journey.
They may think I'm "all over the place" and need to be tamed. Well, I move according to the Spirit of God and I'm living in freedom. I'm no longer bound to looking a certain way to save face.
Some people may have their reservations, but they cannot deny the boldness that comes from dropping everything and saying yes to the Lord. Which brings me to my last point (for now)
Evangelism
I believe that when I wear my hair out now, I am evangelizing. Some of my sisters in Christ joke and call my hair my greatest evangelism tool. I am wearing the freedom of Christ on my head, as my crown. I know the story that I carry in my hair.
I know the hurt and pain I carried in it before the big chop and I know the joy and peace that it has come to represent.
I'm going to make it my goal to do a better job of truly sharing my hair story whenever someone compliments it. It happens nearly every time I go out the house.
I realize that this is on purpose and that I have a responsibility to God to put Him on display. There's so much more I could say on this subject, but for now, this has been a snapshot of how God will use even our hair to draw us closer to Him.