If you've ever watched a car salesman and a customer trying to come to a mutual agreement on a price then you will be well aware of the art of negotiation. It is an elegant dance with ridiculous prices thrown into the ring at the beginning, slowly and sometimes painfully the price of the vehicle becomes a reasonable number that both parties can agree on.
At the beginning of many natural hair journeys, there are many who are hopeful that after they transition they will discover that they possess the looser curl patterns that seem more manageable and more aesthetically appealing, according to them. But when they discover that their tresses are firmly in the type 4 category, the question is often asked: "How do I loosen my natural 4A texture to a 3C texture naturally?"
I get asked different versions of this question so often in my email and occasionally on our Facebook page that I thought it is worth answering properly here. So how do you loosen your natural 4a texture?
Often those who find themselves in the 4A category possess some degree of optimism that there is a way to achieve this. If you are one of those hopefuls you will want to pay close attention to this.
To be frank, dealing with a question such as this requires something resembling an intelligent dance with reasoned arguments until some type of reasonable agreement is reached. Now putting aside the uncomfortable thoughts that a question like that brings to mind, it would be wise to approach this question fairly by looking at the structure of natural hair.
The structure of 4A hair differs from 3C or in fact any other curl type primarily in the size of the curl. You might have heard 4a hair described as coffee stirrer curls or pen spring curls. Either way, the message is that the curls, although visible, are generally quite small. From observation or your basic research you will notice that 3C curls on the other hand are generally bigger coils or curls, that are clearly visible and clump together quite well.
Basic searches online will suggest various methods for loosening your curl pattern like a texturizer or a Brazilian keratin treatment. Putting aside that neither of these methods can be considered natural, lets think about this for a second. To try to loosen natural 4A hair you have to remember that the diameter of your natural curl will remain the same regardless of the methodology you chose to use to loosen the curl pattern.
What that means is that you will essentially be loosening your coils to waves of the same diameter that your hair already has rather than increasing their diameter to another curl type.
Loosening 4A hair further at this stage would result in very slightly wavy to kinky* straight texture which is essentially the texture of texlaxed hair. In the same vein, if you were to loosen natural 3C hair, it would simply result in 3C diameter waves. Loosening this further would eventually result in straight hair.
Refer to the graphic below to see my interpretation of loosened 4a and 3c hair. Both curls are loosened to waves but each remain true to the original diameter of their curl/coil.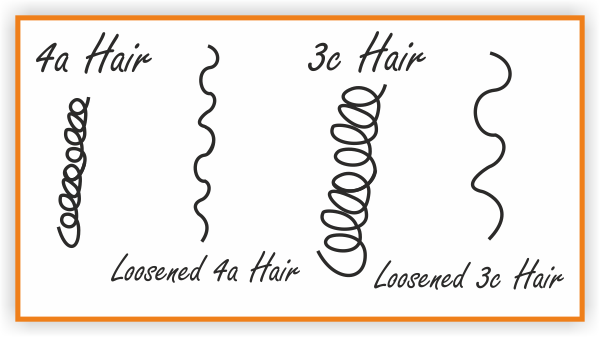 In essence, the bigger bouncy juicy curls you desire have a bigger diameter and this cannot be replicated simply by loosening your 4a curls.
This is in contrast to chemical treatments like curly perms, wave noveau or Gina curl which are are all curl reformation treatments that do in fact change your curl pattern permanently and depending on the rod size chosen, they can look very similar to natural 3c hair, although not exactly the same. !!!You can find out more about curly perms from the video we did on this subject. Just click the tab above or link in the description.
You should also know that sometimes as hair gets longer, the weight of the hair causes a natural change of curl pattern that appears looser. This is nothing to worry about of course but if you have seen women with long 4a hair you will notice that while their curls may seem somewhat larger than shorter 4a hair, they are nevertheless quite different from 3c hair.
Instead of wasting your time going down the endless rabbit hole that is changing your hair's texture, it may be a better idea to concentrate on the health of your hair. In this hair journey sometimes instead of accepting how our natural hair grows, we want to negotiate a middle ground with our hair to attain looser curls that we perceive to be quote unquote 'good hair'.
This is understandable in the initial stages of your hair journey. In fact, many naturalistas have been caught up in this mindset in the beginning. But, at some point you must come to the realisation that in the pursuit of hair that you consider acceptable you may end up causing more harm than good and wind up setting your journey back.
You need to get into the mindset that all textures of natural hair are beautiful, from loose curls to tight kinky* coils. Really seeing the beauty in your own hair without wanting to change it will go a long way towards getting you to your goal of long healthy hair faster.
So what should be your takeaway from this? The structure of your hair determines the diameter of your curls, and loosening your 4A hair will only result in loose 4A waves which are not the same size as 3C coils, nor are they similar to loosened 3C hair.
Short answer: No, you cannot naturally loosen your 4A hair to get a 3C texture, you will get something entirely different that might compromise the strength of your strands. Question is, do you want to take that chance?
Happy hair growing!