We all remember seeing this infamous tweeted picture of Oprah wearing her hair unstraightened right? She released it at the time because she wanted to prove that her hair wasn't a weave.
I remember at the time there was a whole lot of speculation on whether that was her hair shrunken or if it was blown out. I even heard a few murmurings that it was her hair shrunken and it was obviously heat damaged from all the straightening she did.
Whatever the truth, Ms Winfrey's hair is evidently healthy and she still manages to maintain her length year in year out.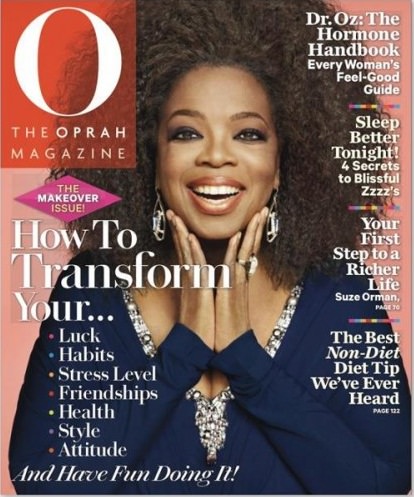 Anyway, in September 2012's cover of O Magazine, she has finally taken her kinks and curls out for a walk and doesn't she look fabulous!
Here's the editorial spin on why she's decided to do this now:
For the first time ever, Oprah's appearing on the cover of O without blow-drying or straightening her hair.

She says that wearing her hair naturally—as she often does on weekends and on vacation—makes her feel unencumbered. But there was a time when she wanted to just cut it all off.

"I wanted to wear it close-cropped a la Camille Cosby but her husband Bill convinced me otherwise. 'Don't do it,' he said. 'You've got the wrong head shape and you'll disappoint yourself.' I took his advice," she says.

Although, never one to shy away from a style update, Winfrey is a firm believer that changing your hairstyle can change what we see and feel is possible.

"I even notice a change in my dogs when they get their summer cuts: they're friskier and livelier, feeling more themselves once the weight of the hair is released."

After all the makeovers she's done in O magazine and on TV, Oprah stands firm that the only makeovers that are maintained and sustained are "those in which something inside the receiver clicks, aligning with that which is being received. The only way to real transformation is through the mind."

Don't miss O's September 2012 makeover issue, on newsstands August 7th.
You can subscribe to the mag on Amazon if you fancy it. But what do you guys think of curly Oprah?