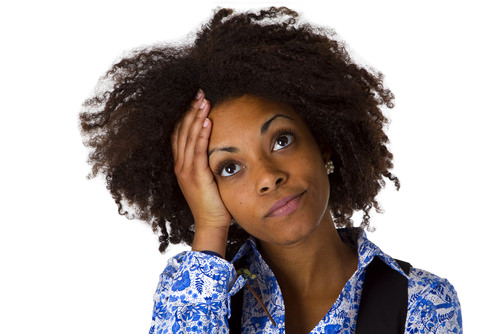 There are negatives on either side, but unfortunately there are more negatives on the side of wearing your hair fully shrunken than if you stretched it a bit to avoid tangles. Not to mention the time you would have to put aside each week to detangle fully shrunken hair.
While many of us have embraced and love our natural textures, most of us have busy lives so we may not be able to put aside the hours it would take to detangle and groom long shrunken hair weekly. It's simply not practical.
While the UBB article was a good one, it doesn't mention the damage that can ensue from the host of single strand knots, tangles and snarls that would have to be cut out, and the dangers of allowing your hair to free form without any sort of clumping that protects the strands ultimately.
I would have loved to spend a bit more time on this topic because honestly we might feel like we are doing a disservice to our strands by not embracing what they naturally do, but in retrospect the strands suffer more in the long run and if length is your goal, and that's the point of this post, your will find yourself unable to retain as much length as you could if you stretched and protected your hair in healthy ways.
2. Ignoring your scalp – Your scalp is where all the growth magic happens, so if you have scalp ailments try to take care of them first before worrying about your growth.
If you are constantly suffering from an itchy inflamed scalp or constant dandruff, we always suggest that you see a dermatologist as the first point of call especially if you find that you are suffering from hair loss, because you never know what could be causing it and it may need to be treated with medication rather than shampoo.
Do not ignore the signs, flakiness, uncontrollable itching, and excessive shedding are all indicators that you might want to take a critical look at your scalp. We will not under any circumstance recommend a bunch of oils*, massages, or shampoo products to you if you have not seen a professional first to ensure that it is not an internal issue.
3. Not listening to your hair as you comb – POP POP POP, what's that sound you ask? That's your hair breaking at various points in the strand as you comb your hair!
Do not ignore these sounds when you manipulate your hair as this spells disaster especially if the breakage is in the middle of the strand or even further up towards the roots.