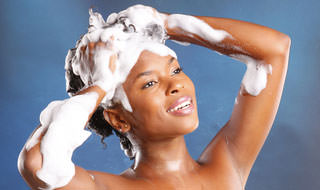 Have you ever wondered what the wash day of the next sistah looked like? You would be surprised to discover that your routines are pretty similar with just a few tweaks here and there all things considered.
Whether you are relaxed or natural we all have the same goal, healthy hair. Since wash day is something we all have in common I thought it would be fun to dissect what we considered a great wash day.
If you agree with any of our steps or if you do something different feel free to comment below.
Step 1 – The Prepoo
Get an early start, wash day is supposed to be a day of pampering and relaxation depending on how much you have to detangle. Wake up put on your old t-shirt and prepare to treat your hair.
The pre poo step more than anything protects your hair from the harsh effects of shampoo so it important that your mixture does just that. You can opt to have a single ingredient like oil or a couple of ingredients depending on how creative are feeling.
If you choose to go with just oil, make it a great oil for example coconut oil* or castor oil* and also consider adding a little heat for an old fashion hot oil treatment to get things going.
If you plan to play mix-tress in the kitchen gather your ingredients, maybe some Greek yogurt and honey*, mayo and olive oil*, or just plain coconut* milk. Mix your ingredients and apply to your hair making sure your have even coverage.
Step 2 – The Cleanse
Cleansing your hair often is actually pretty important in your hair regimen. Co-washing on occasion is fine but nothing gets rid of dirt and build up like good ol shampoo (sulfate free for regular use of course).
Jump in the shower grab your sulfate free shampoo*, clarifying shampoo* or a clarifying conditioner and cleanse your hair thoroughly. Cleansing is a no brainer really, you want to make sure your scalp is clear of any buildup and your hair feels clean but not squeaky straw like clean.