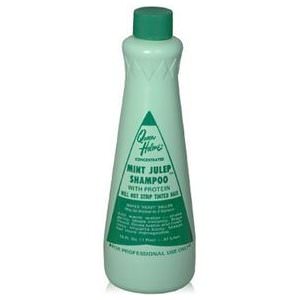 Hellooooo, Beauties!
Recently, I acquired some shea butter and made my own whipped shea butter* cream, with added oils. So far, it's fantastic, and it keeps my curls soft and fluffy. A lil dab will do, so I only have to spritz my hair with water every few days and reseal with the shea butter*.
The only problem I have, however, is that my wash days are becoming more frequent, which is fine, but my co-washing does not seem to do the trick. My shea butter cream is very rich, as it has olive*, avocado, and jojoba oil* in it. I know that natural hair that uses mostly natural products doesn't need a harsh cleanser, but I will admit that I miss the shampoo bubbles. So I began to look for a shampoo, and I decided to be experimental. So I decided on a few things:
1. I wanted to try a sulfate free shampoo*, just to see what the hype was all about.
2. I refused, REFUSED to spend more than 5 bucks on it. (I am a cheapskate, always have been, no need to change it now, lol.)
3. It had to smell good. Anything that smelled like chemicals would not do. I'm weird like that.
So, I went to my beloved Sally's beauty supply to look around. After a few minutes, I was like, "Blargh, whatever, I'm just gonna grab something and get outta here." It was super frustrating, until I found this shampoo.
This shampoo is a concentrate. It can be used straight from the bottle, or you can mix an entire bottle with a gallon of water, or just use 2 part shampoo per 8 parts of water. I put two ounces of shampoo in an applicator bottle* with 8 ounces of water. Then I took the plunge.
Ahhhhh……It smelled like a stick of spearmint gum. It had a nice lather to it, and it cleaned my scalp nicely. No buildup was left on my scalp. I let the suds rinse through my hair, because I don't really lather the shampoo into my ends and whatnot, as I am* a firm believer in shampoo being only for the scalp, and conditioner only for the hair. Which leads to my next point.