Seeing pieces of black art revolving around culture and natural hair is nothing new. Just scrolling through social media you will find numerous of beautiful paintings and drawings of African American women flaunting their gorgeous coils.
One art student in Maryland has taken on a different approach and brought the art to ceramics.
Murjoni Merriweather is a sophomore in the ceramics program at Maryland Institute College of Art (MICA).
The 19 year old has created beautiful sculptures encompassing African American culture and including many traditional hair styles in her pieces. You will find afros, braids, cornrows, puffballs, dread locks and more.
This approach to art is not novel to her. Merriweather has been doing ceramics ever since the 8th grade.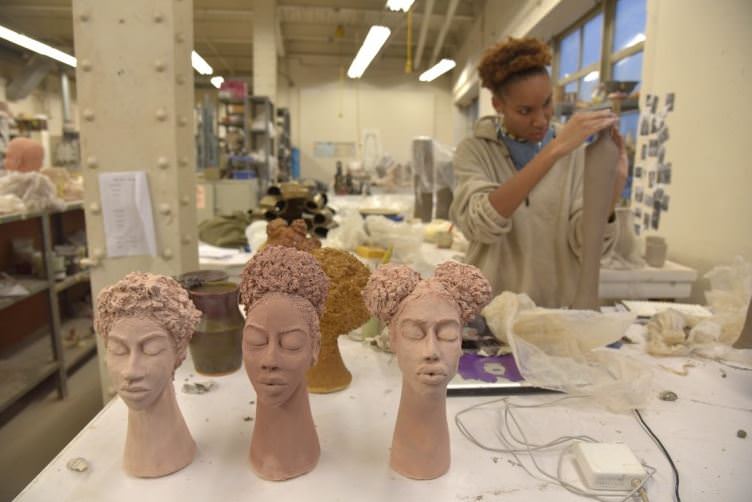 On her decision to incorporate natural hair into her pieces, she felt like she couldn't resist it. Hair has always been a big part of her life. I believe almost every black woman can agree. The hours spent in getting a style right and adding variation into your life, it came naturally for her to add it to her work, pun intended.
In a statement to the Baltimore Sun she shares "I feel as though just letting your hair grow naturally is…empowering…because you're accepting yourself for who you are and how you were born."
In addition to natural hair, Merriweather also made sure to add curvature to her pieces. She states this is to express the reality that bodies of African American woman come in different shapes and sizes.
I feel like most artists gather inspiration from what they know and what they see so it makes since that being from the black community she will use her craft to express what she's been around.
Merriweather is also participating in the upcoming MICA Art Market which allows students the opportunity to sell their pieces.
I believe her artwork is amazing and she will definitely go places! I have no doubt in my mind that she won't have any issues selling her work.
Way to go Murjoni!