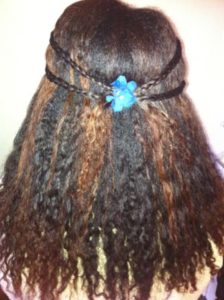 I love the tv show Game Of Thrones. Apart from the wonderful writing and plot twists, I absolutely adore the ethereal platinum blond Daenerys Targaryen (Khalisi) and how she wears her hair. Of course that it's a lace wig* that they put on Emilia Clarke who plays her, but the show has a great way of sucking you into the storyline.
After my recent realization that shrunken braid outs were causing as much breakage as wash and go's it became evident that doing the braid outs on blown out hair was the best work-around solution.
The problem with this method however is that the braid out looks great on day one and day two but by the third day, the definition has all but gone. If this has happened to you, your options are either to re-braid your hair or find a way to style your glorified afro as it is.
Excess manipulation of your strands will be the death of your length goals so avoiding re-braiding all your hair is the ideal solution. Here is a pictorial of how to re-create this pretty pulled back style to stretch your hairdo for a few days longer. The style works best with medium to long lengths.
How to do the style:
You will need:
A flower clip
Two bobby pins*.