A Natural Trend
Big and beautiful, bold natural hair is a great way for women to express themselves. The way a woman does her hair tells you a lot about where she is in her life and who she feels she is.
A short cut for example, could mean that a woman is tired of feeling burdened and weighed down by the things in her life. Cutting off long hair is symbolic for shedding old weight, the past, and looking onwards to something bright and new.
The hairstyle that you choose tells people so much about you, that is why it is important you find one that is right for you. Sometimes though, you can just feel as if you don't have any motivation or inspiration.
That is where we come in. We put together a list of some of the most fashion forward hairstyles for black women below:
The Playful Middle Part
If you are feeling fun and fancy free, this might be the hairstyle for you. Tracee Ross rocks this hair doo, and it perfectly matches her bubbly, upbeat, and energetic personality. This hairstyle is for girls who just want to have fun.
Smooth, Long Locks
This is a more contemporary haircut that is both classic, and luxurious. While this hairstyle is pretty conventional, it never fails to turn heads, or make you feel like the queen of a beautiful empire.
The best part is that this look is easy to achieve with a weave. The smooth, silky locks will keep you and your lover entranced.
Black N Blonde Ombre
This is a great one for long hair. Though it could be considered a strange fashion trend, it can be a lot of fun too. Black hair with the bottom highlighted blonde is a striking, stylish, and sexy look that will be sure to turn heads. The best part is, if you get bored with it, the blonde is very easy to remove.
Short Curls
Curls are a good look for most women, but they can be a lot to take care of. If you want the look without the maintenance, short curls also known as a TWA (Teeny Weeny Afro) look chic and they require almost no maintenance.
Shoulder Length Bob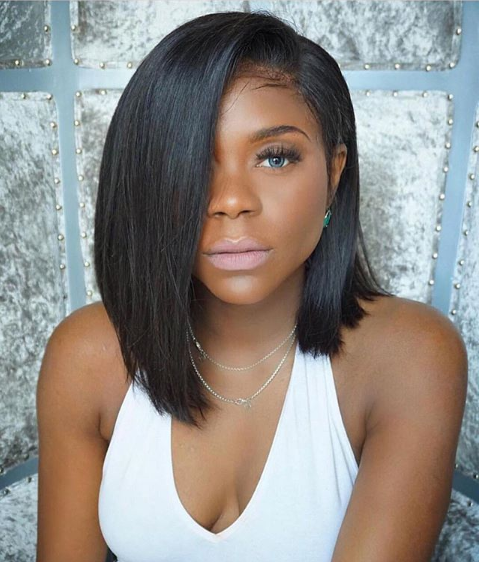 Popularized by the voluptuous Halle Berry, this is a bouncy and rich haircut that is sexy and easy to keep that way.
It is a cute haircut that is especially useful for the girl on the go. If you are busy with school and/or work, this haircut is easy to make look good.
Braids
Braids are always on trend and can be adjusted to suit a variety of tastes. The nice thing about braids is they can be done with any hair length, and they can be customized with anything you want, beads, lucky charms, cuffs and any other trinkets you find meaningful.
Hot Color Bob
This is a fun one that lets a girl show off her colorful side. Spice up a bob haircut with something like an electric blue color, and you will be sure to turn heads.
There are so many great options out there for hair that if you look around you are bound to find a good one.