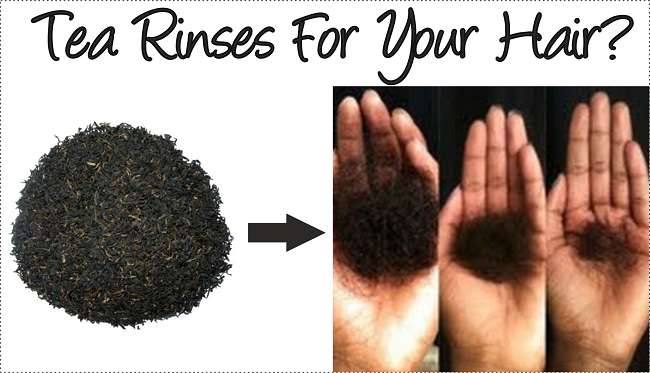 Every 10 minutes it seems a new method or technique of hair care is popularized. Most are just minor adjustments to an older method that may be purported to be better than the original. Very rarely do they live up to the hype.
However when it comes to tea rinses, there's is no hype required because they have been used forever by us hair growers most commonly to combat excessive shedding. Personally I am a huge fan of regular black tea rinses but my experience notwithstanding, lets find out some of the other benefits of this easy hair treatment.
What is a tea rinse and what are the benefits?
A tea rinse is done by pouring black, green or other herbal teas over the hair and scalp as part of the wash day routine. The benefits of tea rinses are:
1. Increased hair growth from the caffeine.
2. Reduced shedding, again another great side effect of the caffeine.
3. Some teas are natural astringents which dissolve excess oils* on your scalp which means less dandruff.
4. Some tea rinses restore or brighten your hair color.
5. Along with the reduced shedding, there have been some reports from women who claim that tea rinses also stop breakage dead.
What proof is there?
The makers of the caffeine rich shampoo Alpecin have conducted their own studies showing the growth benefits of their product. Although the internet is awash with articles proclaiming the benefits of tea rinses, I could not find a single independent study looking at topically applied tea on it's own but it's a safe bet that with pure caffeine showing an improvement in hair growth and reduced shedding, the same benefits would apply to caffeine rich tea varieties too.
Still there is information however that too much caffeine can actually stunt hair growth which suggests that high caffeine teas are probably not ideal unless diluted. You will also notice that Alpecin* advise their customers to leave the product in their hair for just 2 minutes before rinsing. If you wash your hair multiple times a week, it would also be advisable to do the tea rinse with just one of those washes.
Types of teas and their benefits:
Black tea – Has the highest caffeine content so it may not be ideal. Only use black tea if you are going to dilute it.
Green tea – It has a lower caffeine content and helps combat shedding and soothes the scalp
Chamomile tea – Accentuates your hair's natural highlights
Sage tea – Reduces oil build up on your scalp
Nettle tea – Prevents dandruff and increases circulation to the scalp which could also benefit hair growth
Rosemary* tea – As with rosemary oil* it promotes hair growth and soothes the scalp
How to do a tea rinse:
1. Brew 1-3 teabags in 5 cups of hot water and allow to cool. For high caffeine teas stick with just 1 teabag.
2. Section your hair and twist in preparation for your wash.
3. You can use a color applicator bottle* or a spray bottle to douse your scalp with the tea, I find it easier to pour the mixture through my scalp using a jug.
4. Let it sit for 2-5 minutes. You can leave caffeine poor tea in for up to 30 minutes if you wish.
5. Shampoo and DC as usual.
You may notice that shedding will reduce very quickly thereafter but the hair growth benefits will take a few months to become apparent. As time goes on and more of your strands stay attached to your scalp, you should see a marked increase in the thickness of you hair. Here is a video done by YouTuber Sabrina showing her reduced shedding as a result of tea rinses.