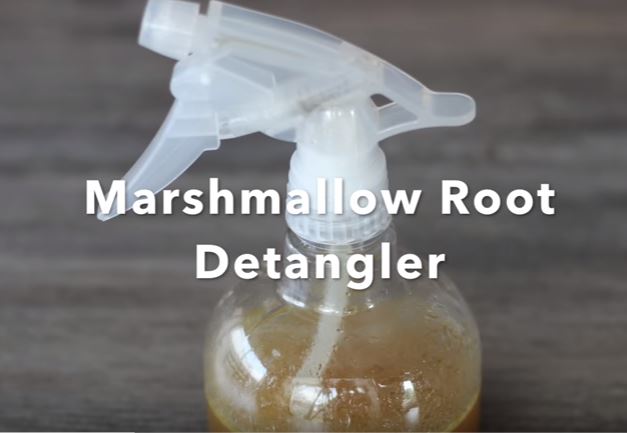 Babilon Kay is fast becoming my go-to girl for really awesome all natural recipes for my hair and the last video she did was a yummy marshmallow root detangler that I highly recommend that you all try. If you have never heard of how awesome Marshmallow Root then let me be the first to share its benefits:
According to Practical Herbalism, the plant has a very slippery texture when made into an infusion which is why it is perfect for detangling. It softens the hair naturally and promotes thickness and strength because of its high protein content.
It also provides natural shine to dull hair, strengthens the hair follicles, soothes dry scalp and reduces itchy scalp. As a matter of fact if you take a quick look at the back of some of your favorite leave in conditioners you might find the extract very high up on the ingredient list.
This is true of many of the products that tend to boast about using primarily natural ingredients and are proud about it.
How to make your own detangler
If you live close to a health food store you will find the herb there where you can buy it in bulk as well as find all the other ingredients you will need as well.
According to Babilon Kay, this is what she used in her mix:
1 ½ cups water
3 tablespoons marshmallow
3 tablespoons apple cider vinegar*
1 ½ teaspoons olive oil*
essential oil (optional)
Watch her video below to see how to make your mix and also how to apply it to your hair:
You can use this detangler every time you have to detangle your hair or as needed. I would suggest storing your mix in the fridge just to keep it fresh and through it out if you notice that it doesn't seem as fresh as it did the first day.