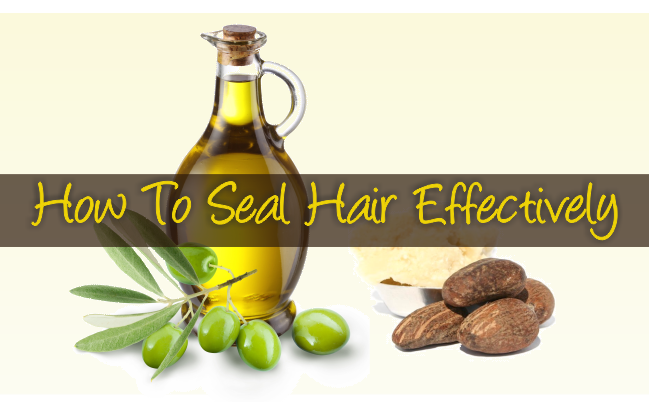 Arguably one of the most important steps to length retention is sealing your hair. Whether you are relaxed or natural figuring out the most effective way to keep moisture in your hair through an effective sealing routine will be one of the keys you will need for successful healthy longer lengths.
Here are five things to remember when sealing your hair:
1. Make sure that you seal in the proper order – The purpose of sealing the hair is to trap moisture in it so that your style lasts and you do not end up with dry frayed ends in two days. The ideal order of things should be water or water based moisturizer (water is the first ingredient on the ingredient list) then oil or butter (heavy or light). You can also try the LOC method where you add a creamy leave in conditioner after your oil.
2. Choose your oil or butter wisely – The oil of choice is really a matter of preference, however as a rule of thumb the thicker the oil the more effective the seal. Choosing the right oil is based solely on your hair needs if you are natural with thick coarse strands then you may want to try a heavy oil or butter such as castor oil* or shea butter*.
Mineral oil works well for coarser hair types as well when applied to the ends. If you are relaxed or have fine light strands then a light oil or butter may work well for your hair, for example avocado oil* or a light hair dress.
3. Focus your attention on the ends – The ends of the hair are the oldest and most fragile parts of the hair so pay close attention to what you are doing as you apply your products to that portion. If sealing is new to you spend some time focusing on what the ends of your hair feel like and look once sealed effectively. This will ensure that you always get it right every time.
4. Get to know your hair in its sealed state – this might sound a little ridiculous because obviously if you follow the basic technique of water then oil then how your hair looks and feels should be a no brainer. This however is not true for everyone especially if you are new to sealing and how your hair should feel afterwards.
Moisture retention with an effective sealing routine should last a couple of days, your hair should clump together easily if you are natural and your hair should have a natural sheen about it is you are relaxed or natural. The hair should also feel soft and silky smooth on day one and a few days afterwards once dry.
If your hair and ends still feel dry and frayed then you may need to take a look at your process and or products. Additionally make sure your ends are not damaged, the only thing that will fix damaged ends is a good trim, only then will you start sealing effectively.
5. Don't touch your hair – After you have sealed your hair allow it to dry un-manipulated so that the moisture can settle in and the oil can work its magic. You may choose to tuck your ends away in order to preserve moisture but if you like to wear your hair out just know that you may have to seal more often in comparison to when you may choose to wear a protective style. Either way whether you have to seal every 6 days or every 3 days the technique is all that matters.