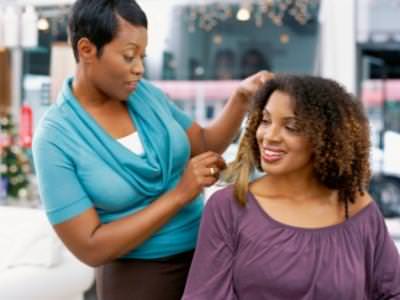 I know you know that the salon business is a huge one. Salons aren't going anywhere and even though the idea of the around-the-way stylist seems like it is diminishing, I don't see that concept going anywhere either.
I love going to the salon like many of us do. The idea of someone massaging my head for at least 10 minutes, the sweet smell of conditioner, the chatter of women, just about everything about the experience is still pretty awesome to me.
The thing about going to a salon regularly is that while it is an amazing experience it might not be convenient for my time or even my budget; well mostly the budget :). Now many salon services can be done at home, in fact the market and technology ensures that everything done in the shop can be replicated by using some sort of box, container with paper instructions or an Ipad in the shower.
The thing is, not because it can be done means you should do it. Stylists will tell you: "Hey you shouldn't be doing that at home, leave it to a professional, you are doing more harm than good to your hair."
Some of their opinions I agree with some I do not, so I thought it would be interesting to look at the top 4 things stylists wish we would stop doing at home.
Co-washing
Some stylists might wag their fingers at me and say, 'We do not care if you co-wash your hair!" Well that's true some stylists do not care and welcome the practice. But we know first hand that there are stylists out there that do not like the idea of co-washing. They think it is kind of ridiculous to think we can 'cleanse' our hair with conditioner.
We've had to explain the reason co-washing is awesome for moisture while conceding that it's not necessarily for extreme cleansing of the scalp. This will be an old argument with valid points on both sides, however it is definitely high on my list of things stylist are a little bit put off by.
Coloring
This one I agree with. When a stylist says it is better to get your hair professionally colored, I am right there behind her nodding my head.
It is even more imperative that you go to a salon when you are lightening your hair because of how dangerous the process can be.
We know that there are boxes out there with adequate instructions; however, nothing beats a professional with experience doing it for you while protecting your hair in the process. Coloring your hair is most definitely one thing a stylist would tell you: "Do not do that at home!"